GSO Ritchey-Chretien 406mm f/8 with truss carbon fiber tube
GSO
GSO Ritchey-Chretien 406mm f/8 with truss carbon fiber tube is perfect for astrophotography is perfect for those looking for a quality telescope for deep-sky astrophotography at an incredible price. Thanks to the carbon tube, the GSO RC 406mm f/8 not only is more stable and lighter but also it has higher thermal stability, so it keeps the focus point more accurate during long expositions. Supplied with giant 3" Monorail focuser with high load capacity. Designed to fully illuminate even the largest sensors (up to FullFrame 24x36mm), it has a corrected field for sensors up to APS-C and offers an optional field flattener for sensors up to FullFrame.
GSO Ritchey-Chrétien (RC) telescopes are known for their excellent optical performance, especially for photographical applications. But RC telecopes are also well known for their expensive price. GSO offers a full line of true RC telescopes for the amateur to an affordable price.
Main features of GSO RC telescopes:
- True RC optics with a hyperbolic primary and a hyperbolic secondary mirror
- The secondary mirror has a center marc for better and more simple collimation
- 99% reflectivity non-tarnishing dielectric mirror coatings
- Big well corrected flat field without need of a seperate corrector
- Enough back-focus for correctors and reducer
- Less dew problems against Schmidt-Cassegrain or similar
- Fast cooling down time because it is an open system
- Each RC is tested and checked on our optical banch
The optical advantages of GSO RC Ritchey-Chrétien for astrophotography
The GSO is a true Ritchey-Chrétien reflector telescope. Contrary to Maksutovs or Schmidt-Cassegrains which have spherical mirrors and need image correctors, and contrary to Newtonians that need coma correctors, the RC system is a well corrected photographical instrument that uses only mirrors (no false colour!) and does not require any corrector with many cameras. The RC is a true reflection system without lens corrector and with a really bright image.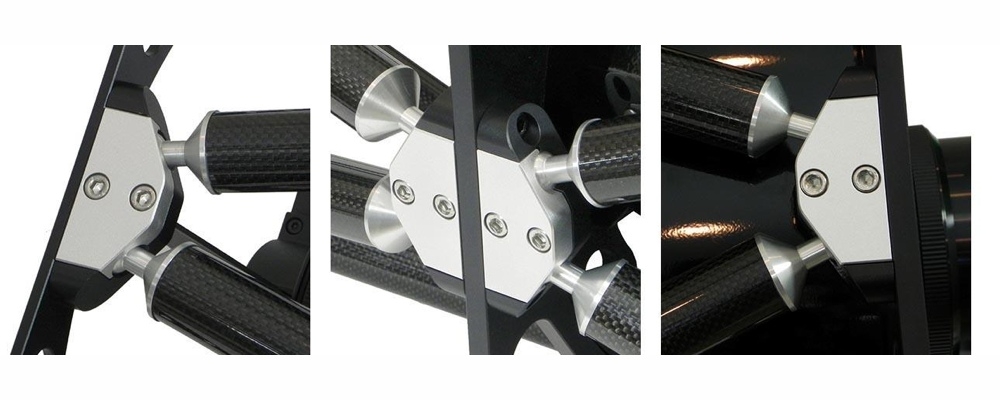 Truss design of GSO RC
Lightweight yet strong carbon fiber truss tubes have low thermal expansion characteristics. Shifts in focus due to temperature changes are minimized because of this design. The trusses are also designed to flex equally, keeping the optics in collimation regardless of the position of the telescope.
Optical system of GSO RC telescopes
The RC has a concave hyperbolical primary mirror and a convex hyperbolical secondary mirror. The resulting image correction throughout the field as well as the sharpness on the optical axis are superior to other telescopes. Both mirrors are ground and polished under pricision computer control to diffraction-limited or better surface accuracy.
Fixed primary mirror with no shifting
Most similar telescopes have a movable primary mirror cell. When focusing the telescope the entire mirror is moved. Unfortunately this technique invariably leads to a certain amount of image shift. Most manufacturers have controlled this problem to a fair extent, but the remaining image shift can be quite distracting for astro-imaging, particularly with cameras with a small sensor size or when taking series of frames with several hours of total exposure time. In the GSO RC the mirror sits in a fixed mirror cell and focus is changed with a separate focuser. This eliminates the problem of image shift completely.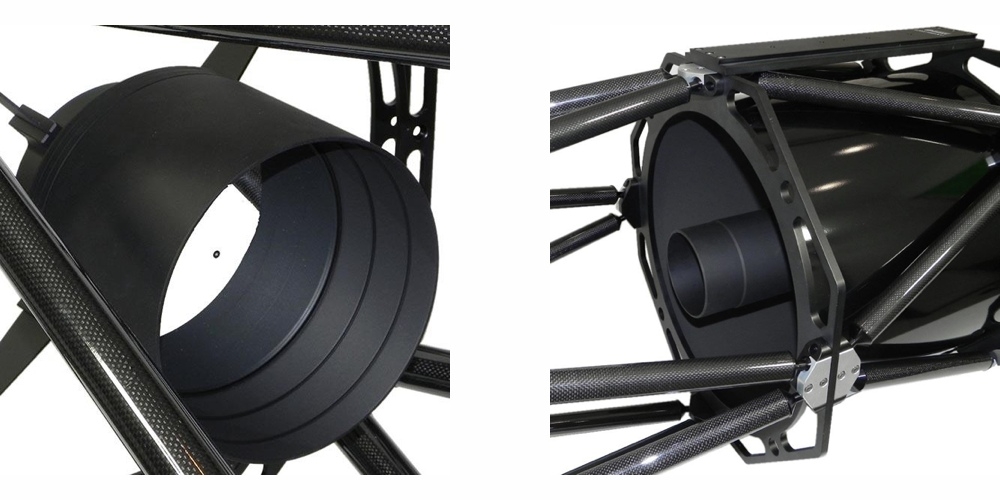 Long back focus
GSO RC has a generous back focus allowing to attach many accessories like e.g. off-axis guiders, filter wheels etc. If you want to take photos with a DSLR camera with the focuser in a moderate position, in order to reach the focus you need to add the GSRCV50 (50 mm spacer, to be placed between focuser and telescope) and the PLLADFOT2508L (long T2 adapter). If you want to use the GSO RC visually, you will need a 35 mm extension tube before a 2" diagonal mirror.
Monorail 3" focuser
The 3" Monorail focuser is a further development of the Crayford design. The load is not carried by ball bearings but on a stainless steel track on the base, thus preventing tilting and bending even under high loads. It is countered by a big knurled screw that centers the inner tube exactly to the rail. The load is distributed across the rail´s surface. Technical details of the focuser:
- Travel: ca. 80 mm
- Clear aperture: 68 mm
- Guidance: by massive and fixed steel rail
- 1:10 transmission for precise focusing
- 360° rotation
- Adaption to 2" and (when screwed off) female M68 thread, directly fitting to TS 2.5" off-axis guider
Hard/soft case

No

Support rings

No

Diameter (mm)

406mm

Focuser

Monorail 3"

Optical Tube

Carbonio

Focal Length (mm)

3250mm

Optics

Primario e secondario iperbolici

Weight

42 Kg

Eyepiece holder

50,8mm con riduttore 31,8mm

Focal Ratio

8

Optical Design

Ritchey-Chrétien

Field flattener/corrector

Non incluso (opzionale)