Officina Stellare Veloce RH200 f3 athermal with ESATTO 3,5" LP
Officina Stellare Veloce RH 200 (Riccardi-Honders) athermal astrograph offers a fast f/3 focal ratio combined with a large corrected field. Veloce in Italian means fast, to indicate its primary vocation: to be a great astrograph capable of stunning performance. Officina Stellare Veloce RH 200 has 200mm of clear aperture and a focal length of 600mm. Its design allows fast f/3 ratio with high definition and pinpoint stars all over the large 42 mm field (perfect also for 24x36 mm chips), but works also with 36x36 mm chips (51 mm diagonal), with a very little vignetting at the corner of the frame. Officina Stellare Veloce RH200 f3 athermal comes with ESATTO 3,5" LP low profile robotic focuser: backfocus after the focuser is 64mm.
Availability
: Not available
If you pay by bank transfer 7.652,66 €
Officina Stellare Veloce RH 200 is an unique astrograph of its kind, thanks to its renewed optical design from the originally Honders design, made from master optician Massimo Riccardi. The optical scheme uses a full aperture corrector lens and a Mangin primary mirror. Normally in other optical design the front lens has about the same aperture of the primary mirror, but Officina Stellare decided to change rules. The large corrector lens is bigger respect the primary Mangin mirror, to provide a full illumination, avoiding vignetting over the full corrected field. Near the focus there is a 2 elements rear group, to provide the best definition and corrected field. Its position offers no chromatic aberration and a correction over the whole visible spectrum.
Going deep into details, the RH Veloce uses a big full aperture lens that is weakly convergent, and the primary mirror is a "Mangin" mirror (from the name of its French inventor). A Mangin mirror is a mirror that is coated on the back surface, not on the front. The light passes through the glass, is reflected by the coating and then passes again through the glass. For this reason, a Mangin mirror is called a refractive-reflective optical element, and opens exciting possibilities to optical engineers. This complex design includes also a corrector group before the focal plane, achieving performances impossible otherwise, with extraordinary "fast" photographic performances over wide focal planes.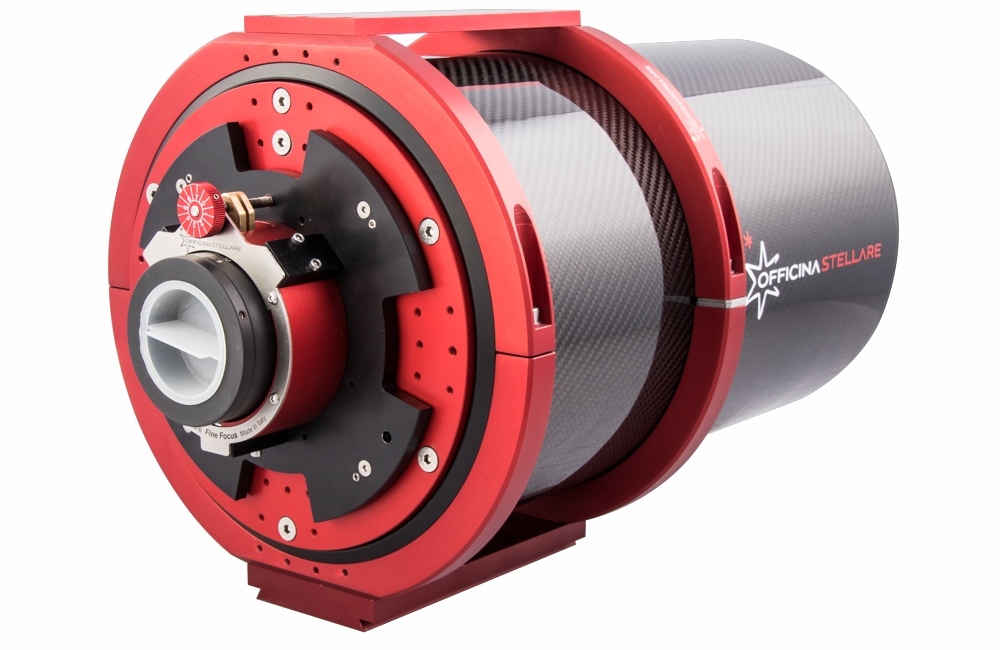 Officina Stellare developed the Veloce RH 200 without compromises both on mechanically and optical, using only premium materials (aluminium 6061/7075, titan, bronze, stainless steel, carbon fiber) and CNC machines to work parts from solid blocks. This offers the best precision available in the market today. When Officina Stellare selected the materials for each Veloce RH 200 component, Officina Stellare considered the derivated problems from thermic dilatation and environmental conditions. This makes RH 200 stronger and capable to get the best performance every time it's used, providing a stable focal plane, fundamental when operating with a so fast focal ratio. Advanced amateurs uses the Veloce RH 200 to get stunning deepsky images, professional to do surveys, for example, on: variable stars, supernovae, asteroids, space debris, extrasolar planets.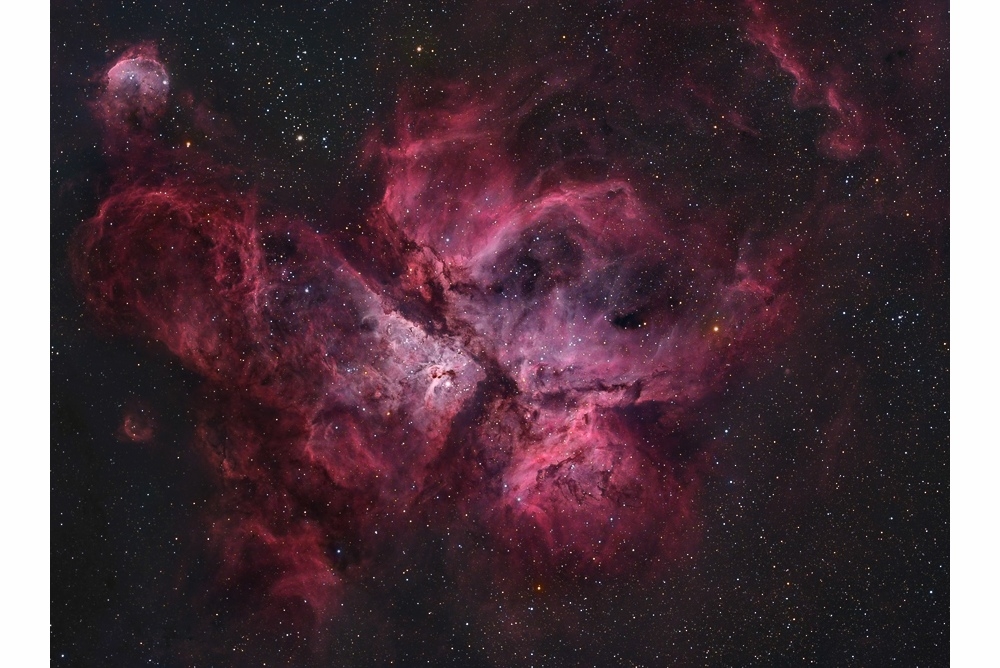 Eta Carinae nebula recorded by ripresa da Harel Boren with Veloce RH200
The Veloce RH 200 is extremely transportable with a weight of only 8.4kg (18.5 lbs) and convenient to use thanks to compact size and great mechanic: only 235mm length (9.25"). 3 fan primary mirror helps to reach the right working temperature. The corrected and illuminated field is 42mm (1.6", full frame camera size). Maximum stars spot size is 9.5 um at the edge of the field. If the user needs to compensate the small misalignment in the imaging train, is possible to adjust the planarity of the focal plane with 4 screws located on the back plate.
Collimation is not only stable, but also intuitive: primary mirror cell has 3 points with large diameter preloaded cup springs (one for each point) operated from oversized bolts. What's the advantage of this new solution? Well, you only have to rotate right/left each bolt to reach the collimation. No more difficult pull/push screws and locking screws as well. Light scattering are avoided with a circular mask placed on mirror borders. Inside light shield Officina Stellare uses micro baffles, combined with special opaque dark painting and flocking, nearly to zero the possibilities to get parasite stray light.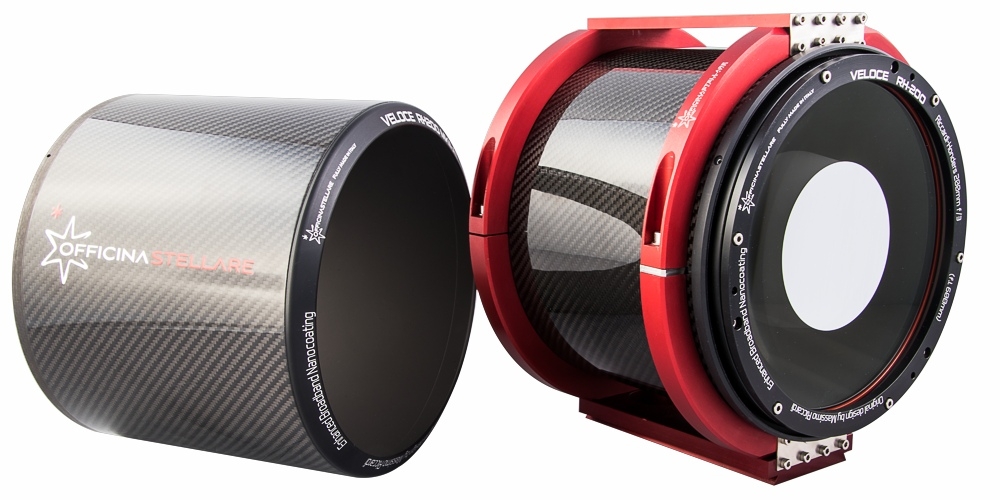 Officina Stellare Veloce RH200 f3 athermal with ESATTO 3,5" LP -
scope of delivery

:

- Veloce RH200 f3 athermal

- ESATTO 3,5" LP low profile robotic focuser

- Losmandy style dovetail bar below, support bar on top of the telescope

- Dewshield
Hard/soft case

No

Support rings

Yes

Diameter (mm)

200mm

Focuser

FF72

Optical Tube

Carbonio

Focal Length (mm)

600mm

Optics

Correttore frontale convergente e specchio primario tipo Mangin

Obstruction

55%

Weight

8,4 Kg

Eyepiece holder

50,8mm

Focal Ratio

f3

Optical Design

Riccardi-Honders

Field flattener/corrector

Incluso e non rimovibile