Celestron EdgeHD 11" with Losmandy bar and ESATTO 2"
Celestron
Celestron EdgeHD 11" telescope with Losmandy bar is a powerful aplanatic Schmidt-Cassegrain telescope 280mm f/10 that is still portable and you can install it in not too large mounts. Thanks to the ESATTO 2" microfocuser it has no image shift and it's perfect also for remote control since you can focus even with the primary mirror locked.
Celestron EdgeHD 11" with Losmandy bar and ESATTO 2"

: main features

The Celestron EdgeHD 1100 is an aplanatic astrograph with important dimensions. The significant amount of light that is able to collect allows visual observations as few tools are able to do. In photography, you'll be able to solve even very faint objects, keeping also high contrasts the usually inconspicuous details. Among the brightest of the series it is easily managed with mount that support medium to high loads as the AZ-EQ6, CGEM or higher. The price though important is perfectly in line with similar instruments in optical size and quality. 3 years of warranty on the optical tube!
Celestron EdgeHD 11" with Losmandy bar is a D:280mm F:2800mm f/10 aplanatic Schmidt-Cassegrain telescope
ESATTO is the most advanced and affordable robotic microfocuser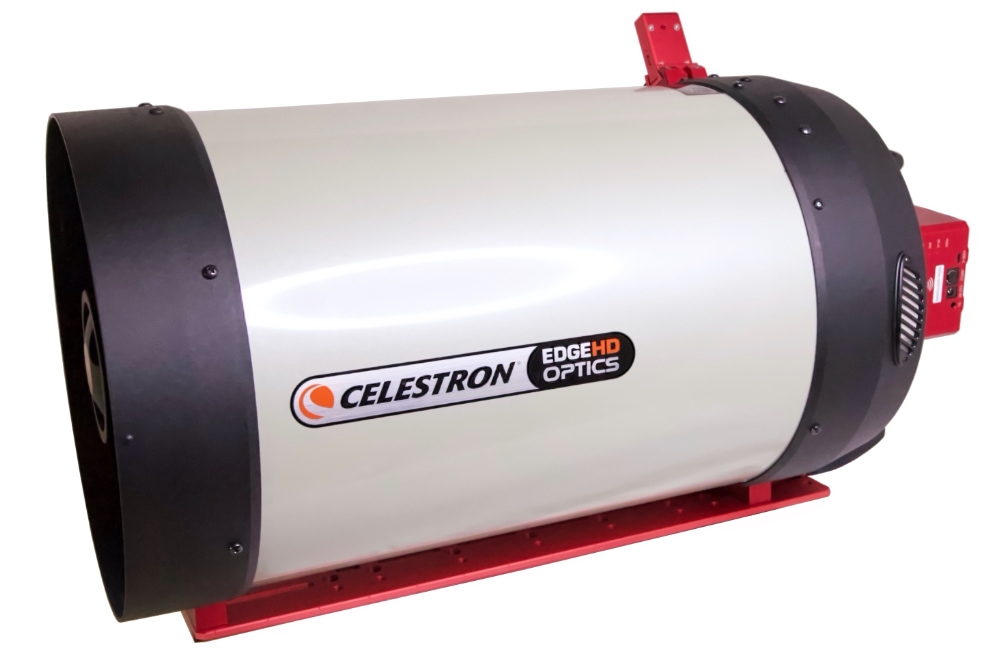 Celestron EdgeHD 11" with Losmandy bar and ESATTO 2" and the following optional accessories: Losmandy style 490mm PLUS dovetail bar (below the tube), ECCO environmental module.
ESATTO

: the most advanced and affordable robotic microfocuser!

Celestron EdgeHD 11" telescope has an internal focuser without micrometric focus and that generates image shift, the movement of the image during focusing. This special version of the Celestron EdgeHD 11" adds ESATTO 2", the new generation robotic focuser that you control by any Windows computer by connecting it to a USB port, or via WiFi by using ESATTO app on your smartphone or tablet with the Virtual HandPad! The 2" version of the ESATTO 2" has a depth of 67mm, it has 15mm of focuser tube travel, a 5kg payload capacity and an incredible resolution of 0,04 micron per step (and this is why we call it ESATTO)! And you can also expand ESATTO features by adding the ARCO robotic camera rotator! EdgeHD telescopes are equipped with two primary mirror lock knobs: thanks to the ESATTO you can lock the primary mirror (this way you avoid any mirror shift) but you can always focus the telescope.
Long backfocus

to connect cameras and astrophotography accessories.

Celestron EdgeHD 11" has a long backfocus, 146mm from the 3,3" SC thread on the back of the telescope. ESATTO 2" is 67mm thick and the adapter to connect it to the telescope is 2mm then you still have 77mm that are more than enough to connect cameras also with accessories for astrophotography (like off axis guiders or filter wheels). These values are still the same if you use the 0,7x focal reducer for EdgeHD that is threaded on the telescope rear side before the ESATTO.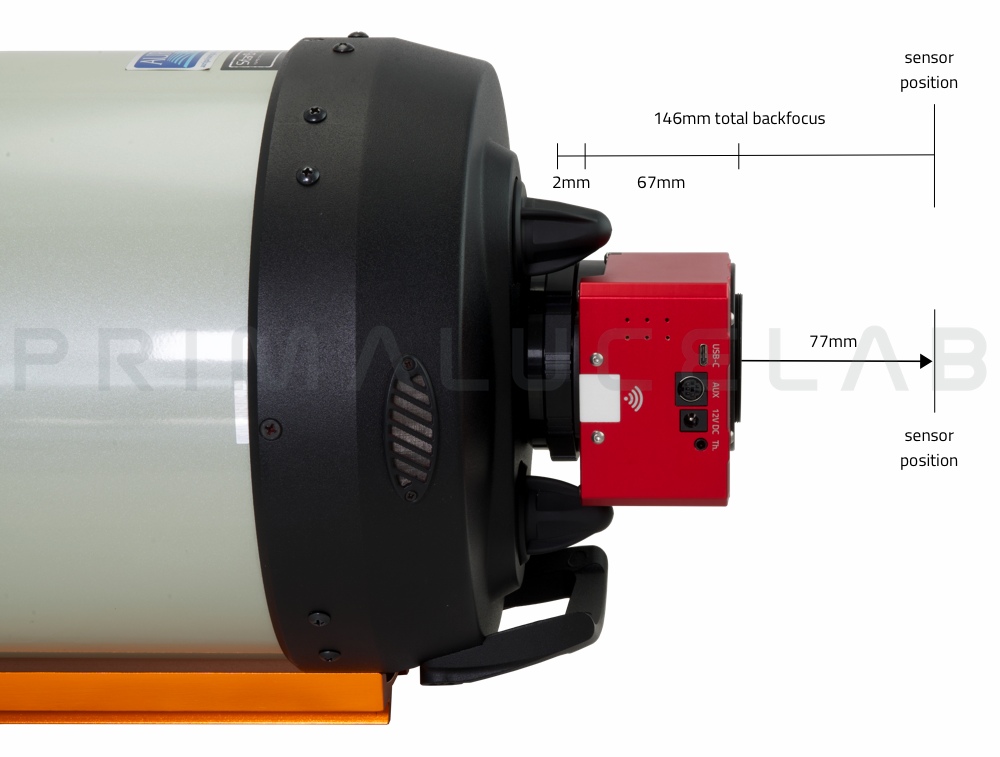 The
quality

of EdgeHD aplanatic optics:

The Celestron challenge was to further improve their famous Schmidt-Cassegrain telescopes and the intention of creating a instrument without compromise, it brought the realization of these aplanatic optics, that return a stellar image comparable only to the famous RC or the CDK. The EdgeHD optics in fact guarantee perfect images, both in color level and in big 42mm circle field correction. Maintaining the same high quality standards, Celestron has succeeded in creating a new generation telescopes at a very affordable price. The construction of these optics is done by the combination of the best features of CDK and SCT. EdgeHD in fact are made with primary and secondary spherical mirrors. But, unlike the Schmidt-Cassegrain telescopes, in the optical path two lenses that correct aberrations are installed, in addition the stars appear perfectly point, without coma or field curvature.

The EdgeHD for
visual

and

astrophotography

The high performance of this instrument can be noticed immediately during an observation, thanks not only to the optical design, but also to the great optical correction that offer results hat only few instruments can provide. Even with wide-field eyepieces, stars appear perfectly pinpoint from the center to the edges of the field of view. The resolution capabilities of this instrument is amazing, you can perform very high quality observations or imaging of double stars or planets. More, thanks to the large diameter, you can observe and take picture of many deep-sky objects, like galaxies, nebulae or star clusters. Thanks to a big 42mm diameter flat field, this telescope is ideal in astrophotography even with large sensor camera. Celestron also created dedicated accessories in order to be able to use this instrument with the maximum performances, such as the focal reducers and photographic adapters made specifically for the EdgeHD. In addition, these optics are compatible with the Hyperstar system, which leads the focal instrument from f/10 to f/2, much brighter and greatly reducing the exposure times. Photographically they are comparable only to high-level instruments with much higher costs.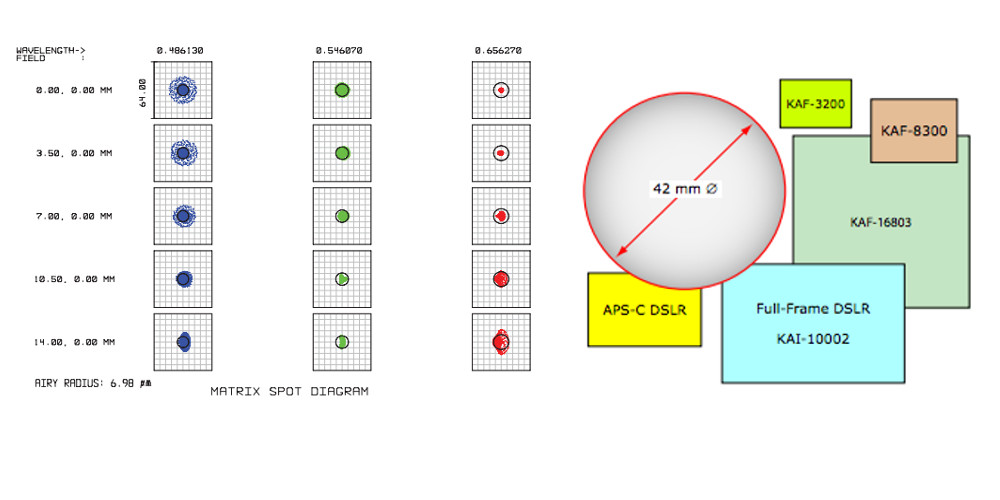 Celestron EdgeHD 11" with Losmandy bar and ESATTO 2":
scope of delivery
- Celestron EdgeHD 11" optical tube
- ESATTO 2" robotic microfocuser
- Adapter ESATTO 2" for telescopes with large 3.3" SC thread
- 50,8mm and 31,8mm visual back
- Luminos 23mm 102x eyepiece (diameter 50,8mm)
- Mirror diagonal 90° (diameter 31,8mm)
- View-finder 9x50
- Dovetail bar Losmandy type
Hard/soft case

No

Support rings

No

Diameter (mm)

280mm

Focuser

ESATTO

Optical Tube

Alluminio

Focal Length (mm)

2800mm

Optics

Primario e secondario sferici, con lastra correttrice e gruppo spianatore

Obstruction

34%

Weight

13 Kg

Eyepiece holder

No

Focal Ratio

f/10

Optical Design

Schmidt-Cassegrain

Field flattener/corrector

Incluso e non rimovibile