EAGLE, our advanced computer for telescopes and astrophotography is available in different versions that offer different features, sensors, computing power and storage space. In fact, even if all the EAGLE units share the all-in-one design of a computer running Windows (so you're free to use the Windows software and connect the devices you like) installed on your telescope that comes with advanced power distribution features to improve cable management, we designed the EAGLE line to offer the best match for everyone's needs based on different applications that every astronomer has with his telescope. Let's see differences and find out which version is the best for you.
First of all, EAGLE units offer different sensors and advanced features. For example, in respect to EAGLE LE, EAGLE4 (that uses the same computer of EAGLE LE) adds GPS and EYE sensors. More, the EAGLE5 S, PRO and XTM add also Inclinometer and Motion detector sensors.

Referring to the computer integrated in every EAGLE, EAGLE LE and EAGLE4 come with a Intel Celeron processor with 4GB of RAM, 120 GB of SSD space, WiFi 5 (ac) and 8 USB ports. The EAGLE5 S has an Intel i3 processor with 8GB of RAM, 250 GB SSD drive, WiFi 6 (ax) and 10 USB ports. EAGLE5 PRO comes with an Intel i5 processor with 16 GB of RAM, 500 GB SSD drive, WiFi 6 (ax) and 10 USB ports. EAGLE5 XTM comes with an AMD Ryzen 3 processor with 32 GB of RAM, 2TB SSD drive, WiFi 6 (ax) and 10 USB ports. Here you can find a quick comparison of computer specifications of EAGLE models: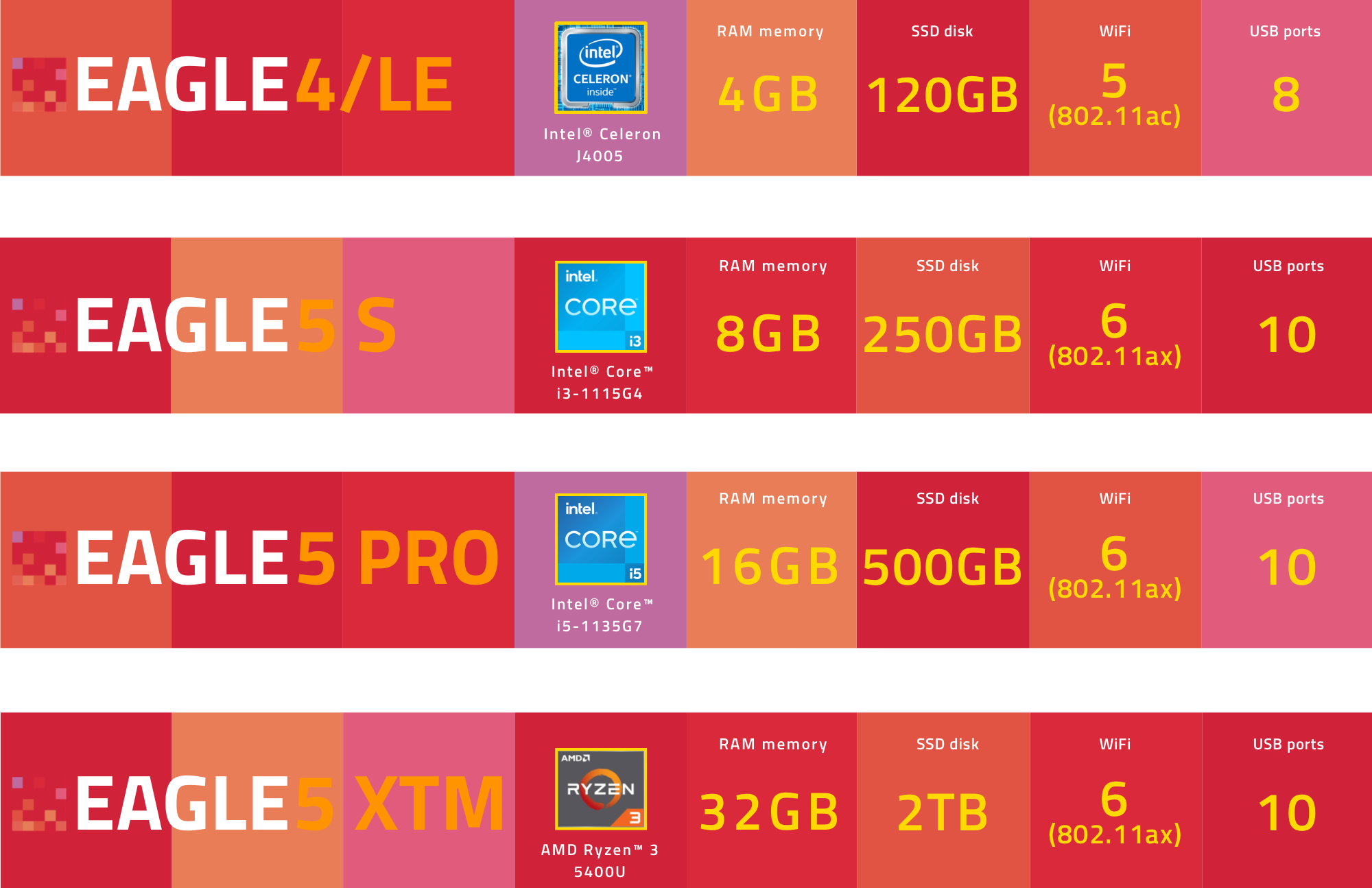 Faster processor and increased RAM memory of the EAGLE5 S, PRO and XTM offer higher performance. In fact, as you can see in the below chart, EAGLE5 S is 2x faster than EAGLE LE/4. The EAGLE5 PRO is 2.5x faster than EAGLE LE/4. EAGLE5 XTM is 3x faster than EAGLE LE/4.

Not only a faster processor will make your EAGLE quicker and will allow you to make the most of your telescope time, but the increase of performance is very important in applications that make intense use of processing power, like plate solving or autofocusing routines on multi stars. Also, even if the basic EAGLE LE and EAGLE4 are able to make all of this, the faster EAGLE5 S, PRO or XTM models will complete any task in less time so you will make the most from your time under the sky. More processing power and added storage space are very important also in planetary imaging with fast USB 3 cameras where EAGLE5 S, PRO or XTM will allow you to save more frames per seconds and this will improve your processing of high res images. More, the Thunderbolt 3 port with USB-C connector that is present only in EAGLE5 S and PRO models allow you, for example, to connect very fast external drives for an easy option of added storage!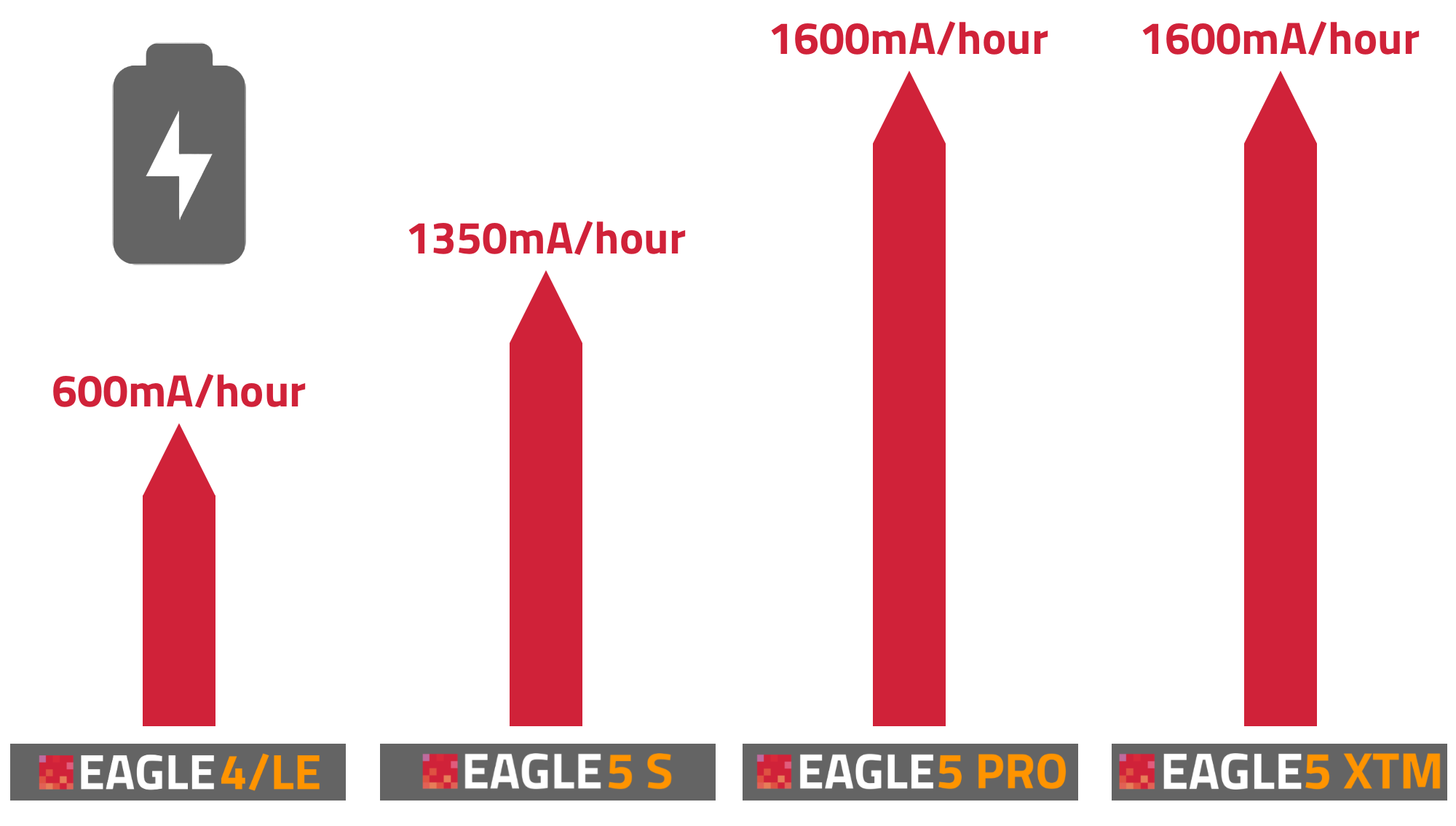 But, because of the faster processor, EAGLE5 S, PRO or XTM require also more power: the average power consumption of EAGLE LE / EAGLE4 is only 600mA/hour and this increases to 1350mA/hour for the EAGLE5 S and 1600mA/hour for the EAGLE5 PRO and XTM. This means that, if you use your telescope with a field battery and you search for the best portability, the EAGLE LE and EAGLE4 could be an even better choice since they needs a less power and you can use a smaller battery.