GIOTTO smart flat field generator includes specially designed electronic to connect it to computer's USB port and control it with PLAY astrophotography software installed in your EAGLE or a standard Windows computer. PLAY allows you to control all the PrimaLuceLab devices within a single platform so you can make astrophotography in the easiest way with the camera and mount you prefer. But if you just want to control your GIOTTO, PLAY is designed also for this simple use, letting you easily record flat calibration files for astrophotography. In this article you can read how to control your GIOTTO with PLAY astrophotography software.
In order to start using GIOTTO, please follow this procedure:
Connect 12V power cable (a 12v power cable with cigarette style plug is provided in the GIOTTO box) to GIOTTO's 12V power port, and the other end to a cigarette-style plug of a 12V power source (it may be a 12V battery or a 12V power unit). If you want to power GIOTTO through the EAGLE, you can add the optional PL1000044 EAGLE-type power cable (allowing you to connect GIOTTO to one of the 3A ports of the EAGLE). If you want to power GIOTTO with an external 12V power unit, you will need a 12V power unit that provides at least 1A, with 5.5/2.5 connector central tip positive. You will see the LED lights (PWR and Wi-Fi) in GIOTTO control panel turning ON.

Connect USB cable (that is provided within GIOTTO box) to the USB-C port of GIOTTO control panel on one side, and to a USB-A port to EAGLE or standard Windows computer.

Launch the Windows Device Manager to find a new entry in the COM port list. Please take note of the COM port number your EAGLE or standard Windows computer creates when you connect GIOTTO to USB port since this will be needed to control it from PLAY software (tip: in order to better identify it, you can also connect and disconnect the USB cable since this will update the Device Manager list).

Install PLAY software in your EAGLE or standard Windows computer you want to use to control GIOTTO. In the folder where you downloaded and unzipped PLAY installation files, please make double click on the PLAY-Setup.exe file to start the installation procedure. Please note that GIOTTO requires at least version 1.2 of PLAY astrophotography software.

Launch PLAY astrophotography software and connect to GIOTTO by selecting "Flat generator" in the left column of the Configurator window. In the window that opens, please select the COM port related to GIOTTO (you noted on previous step 3) and click on the connect icon to start connection.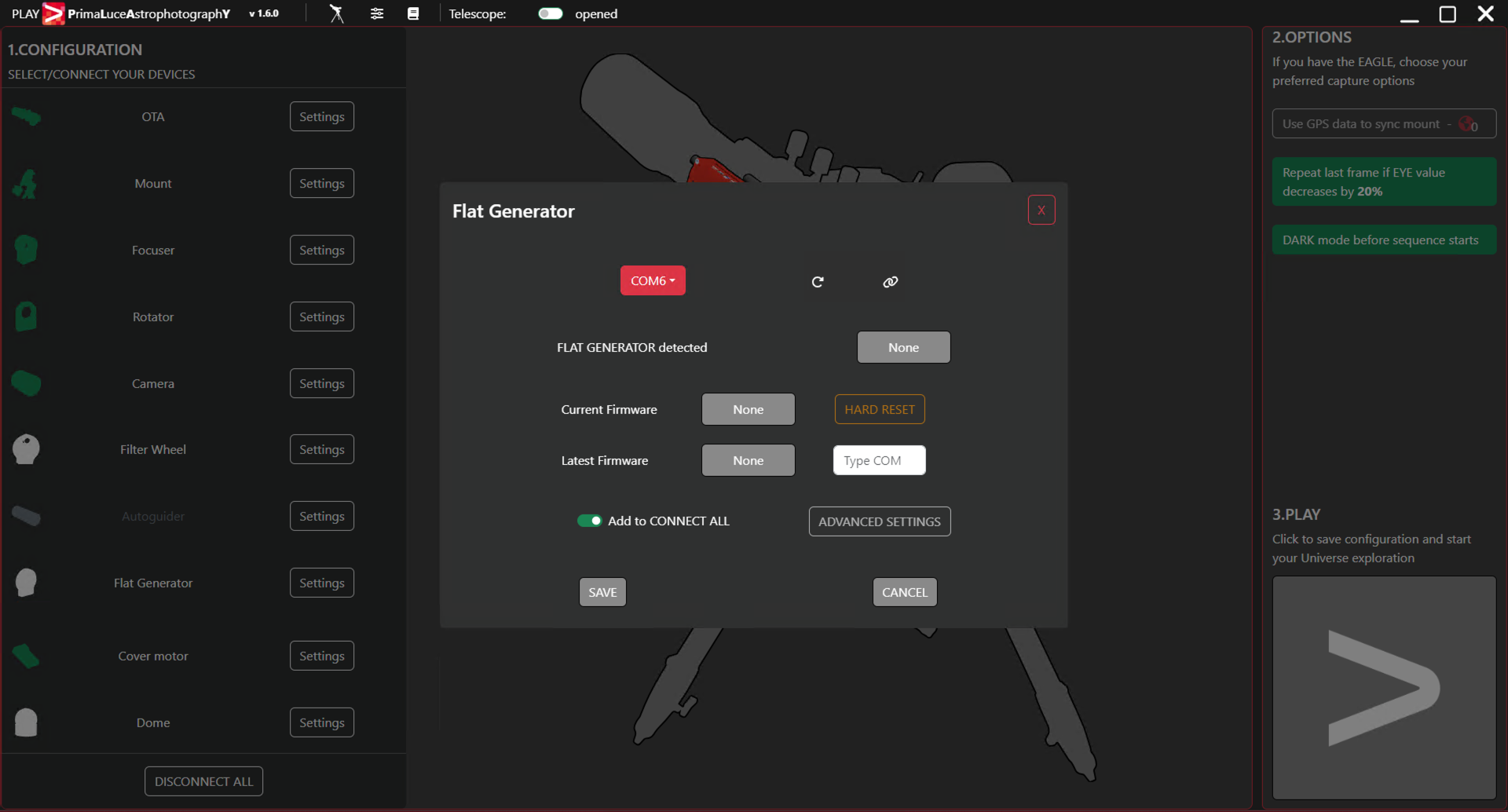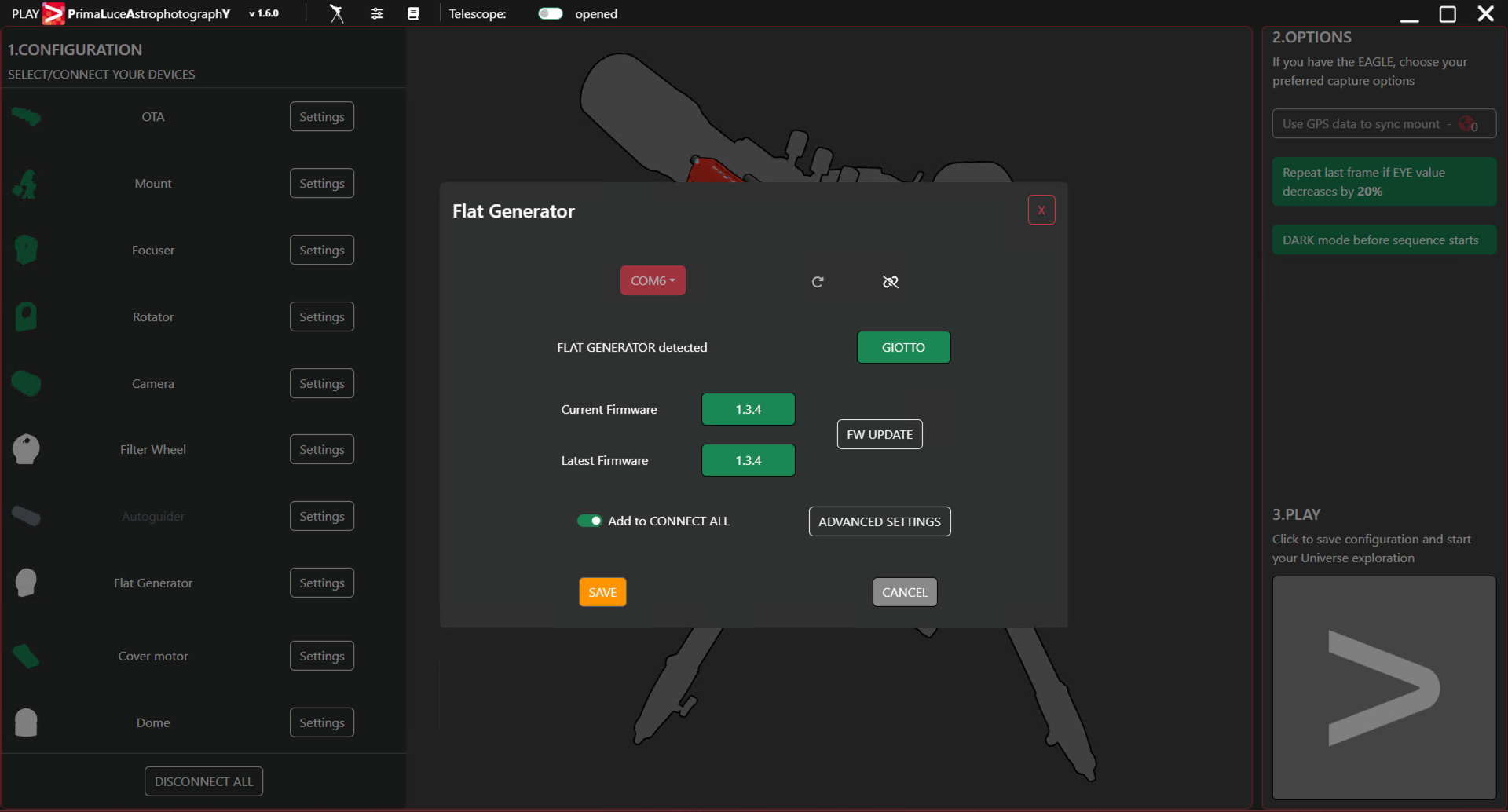 If you selected the correct COM port, you will see the buttons becoming green. Here you will see the current firmware version of GIOTTO and the latest available firmware. If you want to save this setting and quickly connect to GIOTTO the next time you will launch PLAY, select the "add to CONNECT ALL" switch. Then press SAVE button. Press the large PLAY button to the bottom-right part of the screen to access the CAPTURE section and control your GIOTTO smart flat field generator.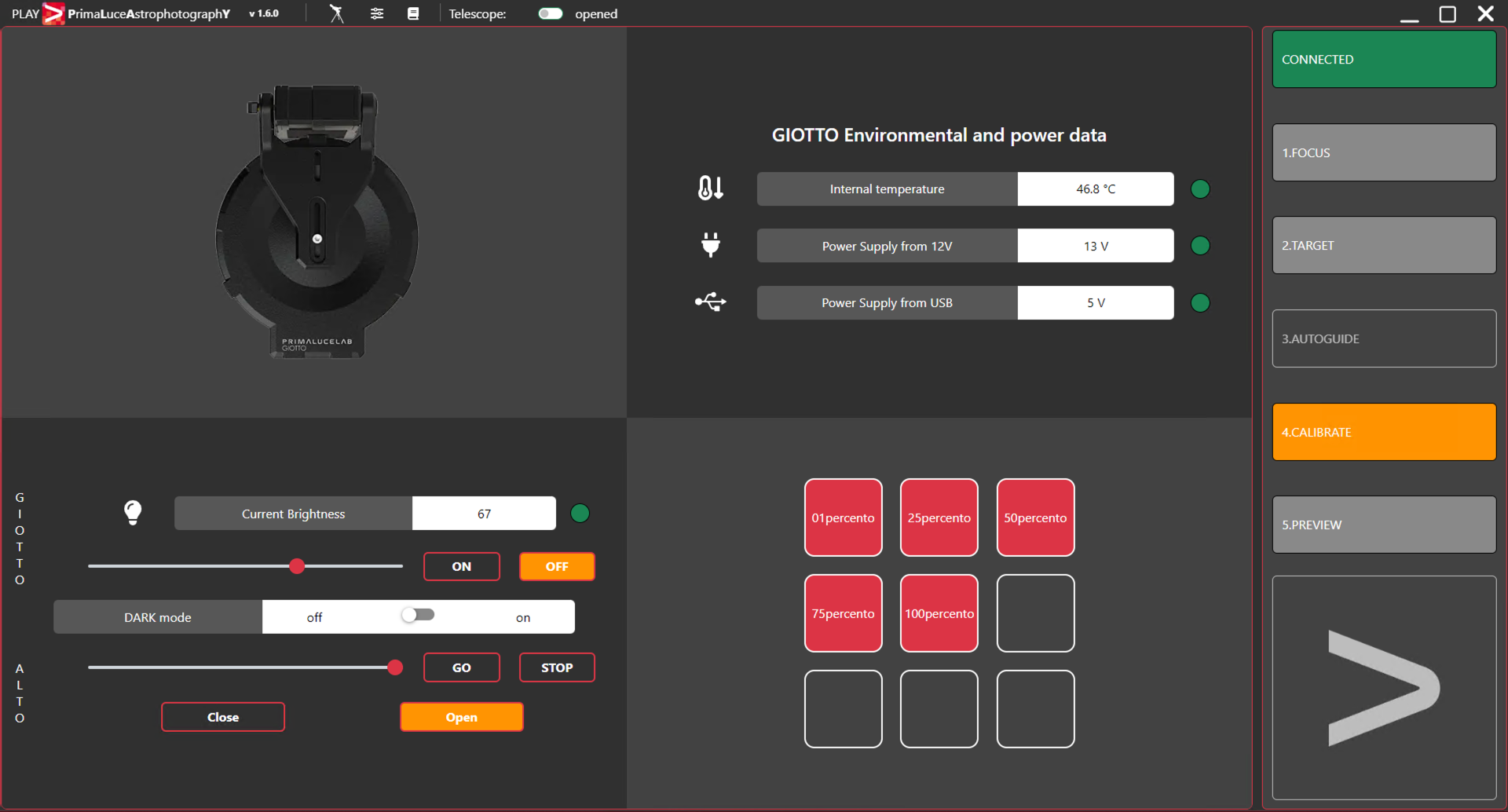 To illuminate GIOTTO, select a brightness level with the slider and change the switch from OFF to ON. This will turn on the flat panel light at the desired intensity.

In the bottom-left portion of PLAY window, you can enable "DARK mode" – this allows you turn off GIOTTO's red LED status lights (please note that with DARK mode enabled, you won't be able to visibly verify GIOTTO's status without accessing it via the provided software).

The Virtual HandPad allows you to save up to 9 preset brightness values for your GIOTTO. In order to save a brightness value in the Virtual HandPad, right click on one of the empty buttons to save the position, rename button name or cancel it.