One telescope to do everything, with EAGLE
Is it possible to have a single telescope to observe and take pictures of any object in the Universe, easy to use, power and transport? Is it possible to have a telescope that has the power of a small astronomical observatory but with the portability of an amateur telescope? After more than 20 years of experience in sky observation and astrophotography, we decided to launch a challenge, first of all to ourselves. And we want to share with you this challenge, showing you which telescope, mount, camera and accessories we chose, how to use it to observe and take pictures of any object in the sky, from planets and the Moon in high resolution to deep-sky objects like galaxies, nebulae and star clusters!
Please note: with this article we do not want to say that we have the perfect telescope. In fact on our website you can find thousands of products to customize your telescope. But having to make a choice, we created a complete setup that would allow us to use this telescope for any application and that would allow us to easily transport, power and use!
Based on our experience we have chosen a telescope made up of these elements:
– Celestron EdgeHD 925 optical tube: in a previous article we had already shown that Schmidt-Cassegrain Aplanatic optics of these telescopes are perfect when looking for a telescope with which can do everything: from observation to photography, from planets to deep-sky. Among the various models we chose the 235mm one in that combines high optical performance with high portability and also features a dedicated 0.7x focal reducer that we want to test. It's a telescope with a long focal length that therefore requires a serious mount to be used in long exposure astrophotography so we chose the …..
– Avalon Instruments M-Uno mount: an innovative made in Italy mount with a special design that does not require heavy counterweights (therefore it improves portability), that thanks to the Fast Reverse technology it has no backlash and therefore i'ts perfect for use with autoguide and it allows you to track objects all night lone avoiding the meridian flip. So, high performance and portability in a single mount: just what we want!
– Atik 16200 monochrome CCD camera: the KAF16200 sensor is the evolution of the famous KAF8300 and, thanks to a diagonal of almost 35 mm, it is perfect for the large correct field of EdgeHD 925. Thanks to the very powerful cooling system (up to -50°C compared to ambient temperature) and to the high sensitivity, it is perfect for the astrophotography of deep-sky objects like galaxies, nebulae or star clusters. In front of the camera we installed the Atik EFW3 motorized filter wheel with 7 50,8mm filters (we inserted the Baader L, R, G, B, H-alpha, O-III and SII filters) and the Atik off axis guider with Lodestar X2 monochromatic autoguide camera. This way the entire imaging train does not show any flexure (since all the elements are designed to be fixed with more screws) and it occupies a backfocus of only 58.5mm.
– QHY5III290 color camera: in order to get the best performance in the planets and Moon high resolution astrophotography we selected the QHY5III290 color camera that, thanks to the sensitive Sony IMX290 STARVIS Exmor-R back illuminated sensor and the high speed USB 3.0 connection, it allows you to record up to 120 images per second at the highest resolution of 1920×1080 pixels! This is why it is a great camera to shoot images at very high magnifications of planets and the Moon.
– EAGLE control unit: all this technology requires special software and a control computer to work together, for this we have installed the EAGLE that allows you to remotely control and power all the devices that make up our telescope. We installed EAGLE in parallel to the main telescope, in the special double clamp of the M-Uno mount: this way the EAGLE also works also as a counterweight (thus improving the portability of the entire telescope) and it simplifies cable management (both USB and power supply) avoiding problems while the telescope is moving. Moreover thanks to EAGLE all the devices of our telescope are powered through a cable that connects EAGLE to the field battery or to the power supply.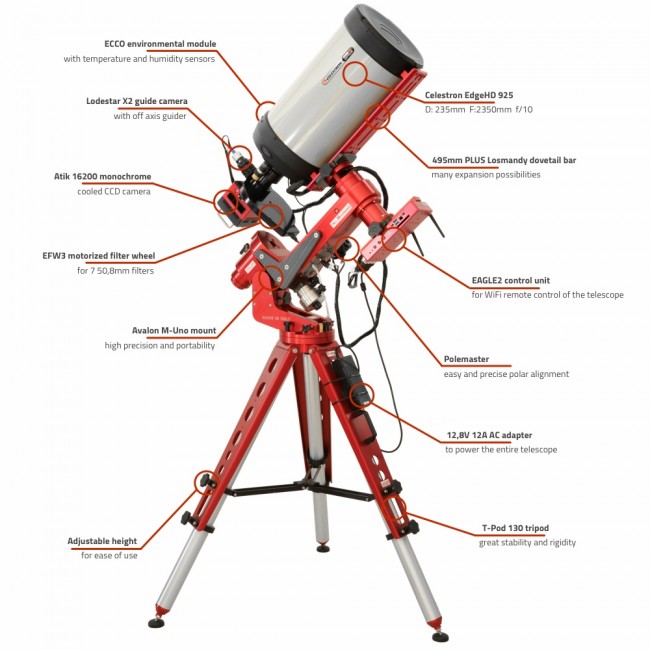 These are just the main elements and our telescope is completed by various accessories (for example eyepieces and diagonal for visual use), special software for astrophotography, power systems and cases for transport. We will see how to use all these instruments for different applications in upcoming articles and videos that we will record in the coming weeks so FOLLOW US!