Lunar eclipse from the Dolomites with Borg 90FL f3.9 and ESATTO 3"
Partial lunar eclipse of July 16th in Italy gave us a great opportunity to test the new Borg 90FL f3.9 fluorite apochromatic refractor with ESATTO 3" microfocuser and, thanks to its extreme portability, we moved to Dolomites, one of the most beautiful part in the italian Alps and Unesco World Heritage! Here our challenge was to take a picture of the partially eclipsed Moon just raising from the Dolomites, take a look at the video and discover how we did it!
Before moving to the Dolomites, we checked different location and the position of the rising Moon relatively of the mountains. In fact is was crucial to find the best point of view that would allow us to record a picture, at the same time, of the lunar eclipse and the Dolomites.
We decided that the best place for us was the Giau Pass very close to Cortina d'Ampezzo, a location we know very well because we use to go there for long exposition astrophotography too.

Having a very compact telescope the transportation has been flawless. In fact the Borg 90FL f3.9 with ESATTO 3" microfocuser is so compact (only 36 cm length) and light (4,2 kg) that we were able to use a portable Celestron Advanced VX mount. We only needed 3 minutes to open the mount, align to the North and install the telescope. Of course we had the EAGLE with us so all the power and data cables were already prepared and we had a small lithium battery to power everything.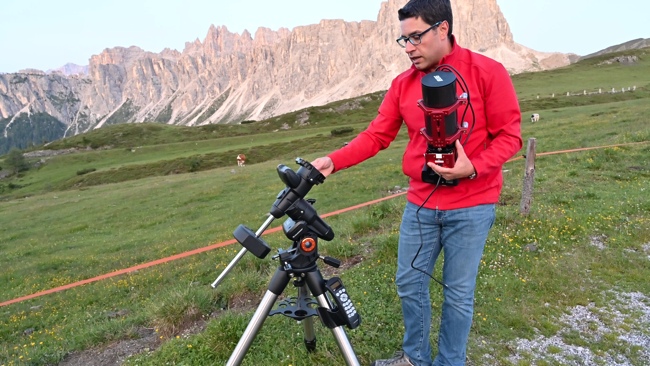 By connecting a Full Frame camera (we used the Nikon Z6) to the Borg telescope, we calculated an incredible field of view of 5.86 x 3.91 degrees that was just what we wanted in order to create a suggestive image of the partially eclipsed Moon together with the Dolomites. So we pointed our telescope to the expected rising position of the Moon and waited for it. We recorded a short exposition time to correctly expose the Moon surface (with the area partially eclipsed by the Earth shadow) and a longer one to record details on the Dolomites, then we stacked it to get the final image.
The lunar eclipse, also if partial, is a fascinating event especially when "lived" in the middle of the incredible Dolomite landscape. And the Borg 90FL f3.9 telescope with ESATTO 3" micro focuser proved to be the perfect telescope for portability with incredible performances also with very large sensors.