SkyWatcher EQ8-R SynScan mount only head + 12V power supply
SkyWatcher EQ8-R PRO SynScan german computerized equatorial mount with SynScan handpad, equipped with dual axis motor drive, belt transmission, USB and power ports. Only head version. 3 years warranty and 12V power supply included in the price!
The SkyWatcher EQ8-R PRO SynScan is the updated version of the famous EQ8 mount and it adds belt transmission between motor and first gear on both axis to minimize backlash, power ports and a USB hub. Thanks to high payload capacity (50 kg) it is perfect for astrophotography also with large telescopes.
Availability
: Not available
€3,518.11
€3,563.11
-€45.00
VAT excluded
If you pay by bank transfer 3.412,57 €
Use a large diameter optical tube has great benefits for both visual and photographic use: to gather more light allows you to see or record weakest details. in order to achieve high performances, however, it's fundamental to have a solid and precise mount, which can support large-diameter telescopes. The SkyWatcher EQ8-R PRO SynScans the answer for those looking for a high capacity load mount, but still at an affordable price. Its excellent mechanical and electronic features such as low periodic error and backlash, belt transmission between motor and worm gear or permanent periodic error correction make it perfect for even more difficult astrophotography.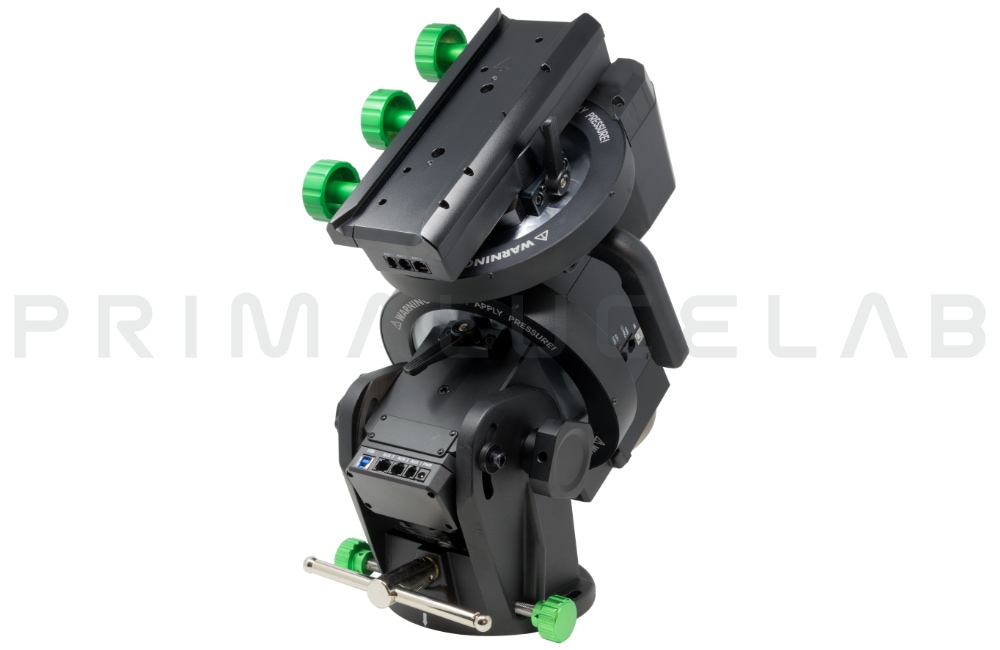 High load capacity 

and

 low periodic error
Load capacity and periodic error are the two fundamental parameters on which you can measure a mont's value, especially in astrophotography. The SkyWatcher SynScan EQ8-R PRO mount creates a new benchmark as it allows to support telescopes up to 50 kg and it offers a low periodic error at a price never seen before. So this mount can support large telescopes such as Newton 400mm in diameter. In long-exposure astrophotography use (for example to record galaxies, nebulae and star clusters) it's recommended to support telescopes up to 30 kg and approx up to 2000mm focal length. For example, it's perfect for astrophotography with apochromatic refractors up to 150mm in diameter, Newton up to 35cm in diameter and Schmidt-Cassegrain up to 35cm in diameter (the latter, suitably equipped with a focal reducer).
Advaced technical features 

for high performances
The SkyWatcher EQ8-R PRO SynScan mount offers several advanced technical solutions to enable you to obtain high performances for every type of use. It offers belt transmission between motor and worm gear and high resolutions motors to minimize backlash (it's also perfect for astrophotography where the autoguiding corrections become more precise).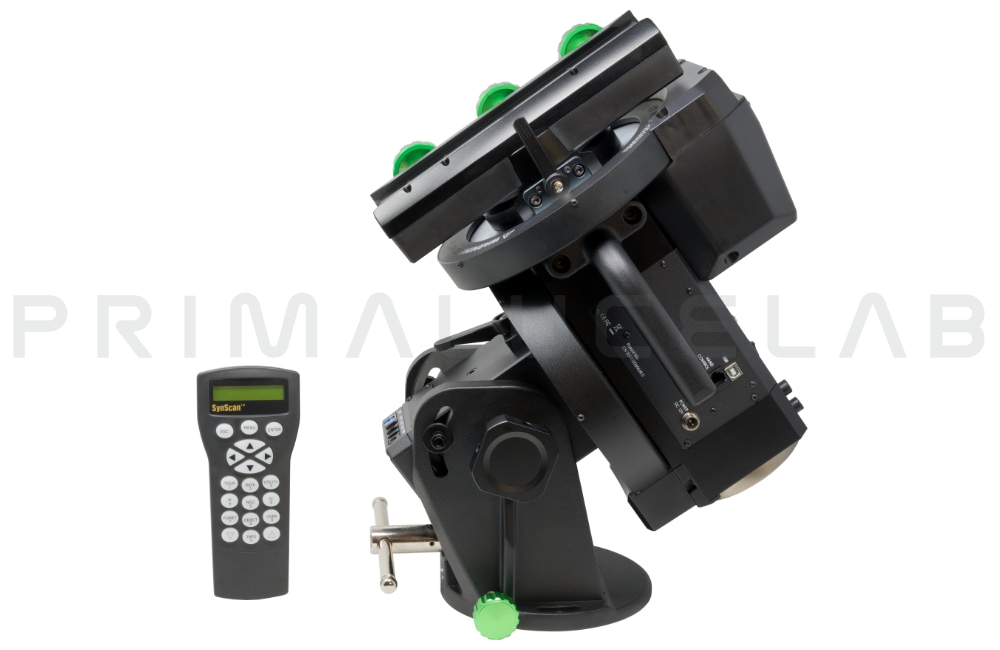 SynScan hand-pad firmware 5

: precise tracking and automatic goto and many functions

The SkyWatcher EQ8-R PRO SynScan mount uses SynScan computer to control all functions, even the most advanced ones dedicated to astrophotography. The main functions are:

- 42.000 objects internal database
- 1, 2 or 3 stars guided alignment
- Sidereal, solar or lunar tracking speed
- Slewing speed from 2x to 800x 
- 5 version firmware, upgradable through the internet
- PEC (Periodic Error Correction), PAE (Pointing Accuracy Enhancement) advanced functions and assisted polar alignment.

At the base of the hand-pad, you can find the USB connection port to computer: you can connect the mount to a computer to control it remotely. Then you can use one of the many compatible planetary software (such as Cartes du Ciel) to control the mount not only from the hand-pad but directly from the PC. Using the same USB connection, you can update the  hand-pad firmware by downloading the updates that SkyWatcher periodically releases on the internet.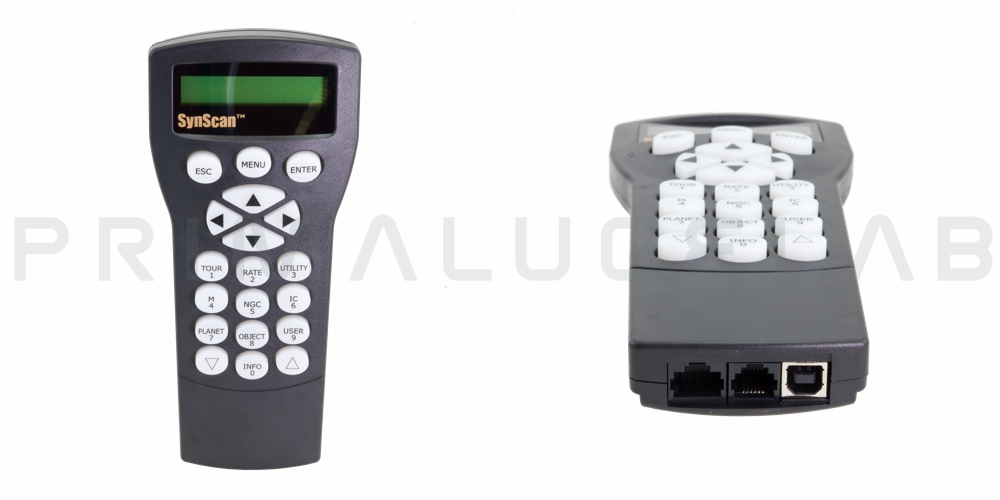 SkyWatcher EQ8-R PRO SynScan mount -
includes

:

- Only head EQ8-R PRO SynScan mount

- SynScan hand-pad

- 2 x 10 Kg counterweights

- 12V power cable (cigarette lighter socket)

- Installation and use manual (english and italian)

- 3 years warranty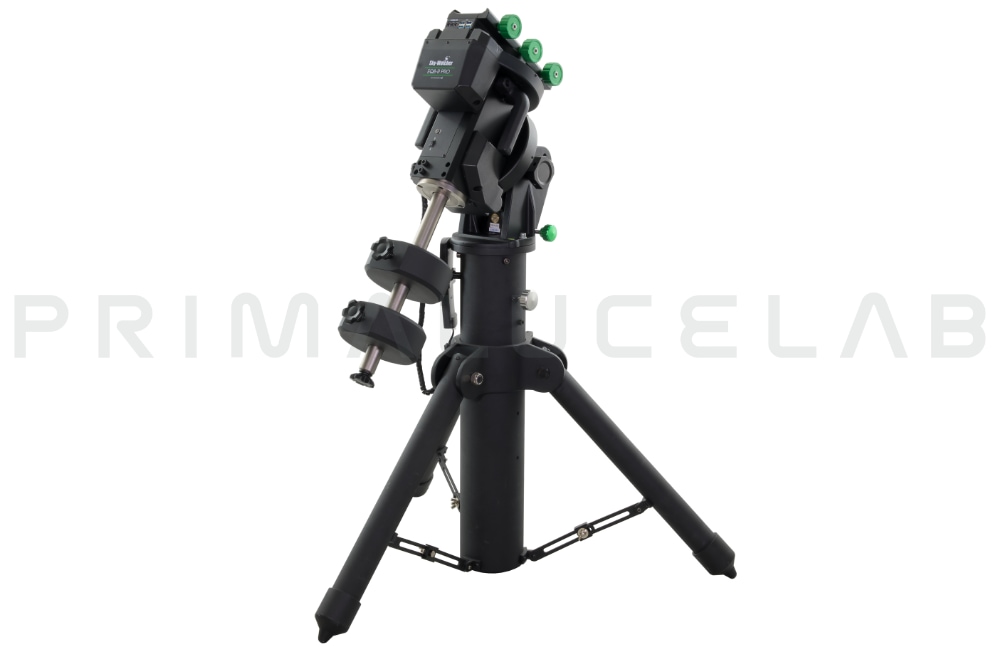 SkyWatcher EQ8-R SynScan mount with optional tripod and 2 counterweights 10 kg each.
Power requirements

12V 4A

Dovetail bar fitting

Losmandy

Polar finder

Optional

Load capacity (kg)

50

Pulsantiera di controllo

Yes

Contrappesi

2 x 10 Kg

Diametro asta contrappesi

-

Lunghezza asta contrappesi

-

Motors

Stepper ibridi

Controllo dell'errore periodico

Yes

Peso testa della montatura

25.8kg

Peso treppiede

-

Porta autoguida ST4

Yes

Mount type

Equatorial GOTO

Treppiede

No

Velocità massima di spostamento

3,7°/s