SBIG STC-7 with built-in filter wheel
SBIG
Take stunning astrophotos with this all-inclusive imaging package. The SBIG STC-7 features an ultra-sensitive and low noise 7 megapixel cooled CMOS sensor, integrated 8 position filter wheel, plus a complete set of LRGB and narrowband filters, and an opaque filter for convenience in making dark frames. You can easily connect the STC-7 to your telescope via either the front T-Thread mount or the included 2″ focuser adapter. The integrated filter wheel design ensures minimal back-focus distance for maximum compatibility. The STC-7 package also includes MaxIm LT for Windows – all the software you need to take images, calibrate, stack, and do essential image processing. Other software is supported via included ASCOM drivers. Mac OS and Linux drivers are also available. For even better results, the STC-7 is compatible with our SBIG StarChaser SC-2 off-axis guide camera. The StarChaser also supports the SBIG AO-8A adaptive optics accessory, which helps you get pinpoint star images.
Availability
: Not available
If you pay by bank transfer 3.390,23 €
STC-7
highlights
High sensitivity, low noise 7 megapixel IMX428 imaging sensor

Electronic global shutter for fast exposure times (0.001 to 3600 sec.)

High-speed USB 3.0 interface (USB 2.0 compatible)

Downloads in under 50 milliseconds (depending on computer speed)

Stack Pro™ automatic in-camera sub-exposure stacking

Regulated two-stage cooling with delta ~ -30C

SmartCooling™ active temperature regulation to 0.1 degrees C for high calibration stability

Integrated 8-Position Filter Wheel with LRGB + Halpha, OIII, and SII filters, plus an opaque filter for dark frames

Compatible with SBIG StarChaser SC-2 off-axis guiding camera

Supports AO-8A adaptive optics unit via StarChaser SC-2

MaxIm LT control software

Multiplatform software API and sample code available
Third-Generation
CMOS

image sensor

The STC-7 represents a major step forward in imaging technology, utilising the SONY IMX-428 CMOS imaging sensor. Compared to CCD cameras with 8300 sensor, the STC-7 has higher sensitivity, lower read noise, and much faster readout. It produces extremely clean images with few hot pixels. Due to the extremely low read noise and fast readout, the STC-7 is best used with shorter sub-exposures than for comparable CCD cameras. A typical sub-exposure will be only 30-60 seconds, versus 5-10 minutes, while still achieving the same or better noise performance and overall dynamic range after stacking. This has many advantages including the ability to take unguided exposures without trailing. It can also be used for lunar and planetary imaging at high resolution, given its high sensitivity, wide exposure range, and fast readout. The STC-7 is compatible with most common telescopes, such as those having a focal length of 600 to 2500 mm. The camera's pixel size is optimal for scopes from 1000 to 1600mm under good seeing conditions. Common refractors and small SCT scopes with focal reducer/field flatteners are well suited. Longer focal lengths can be used for lunar and planetary imaging.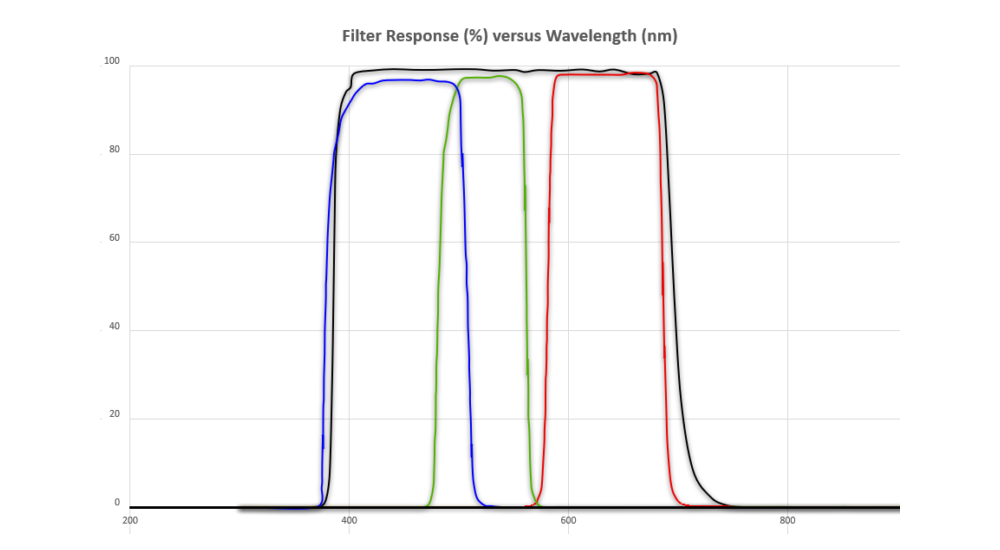 Stack Pro™
The STC-7 scientific CMOS camera features Stack Pro™, a revolutionary feature that performs image stacking inside the camera. While the IMX428 sensor has dynamic range on a par with its CCD predecessor, it is limited to 12 bit data (0-4095). At the same time it also has far lower read noise, which means you can stack many more shorter exposures without degrading signal-to-noise ratio. As great as this sounds it does result in a lot of extra disk usage and post-processing. Stack Pro™ performs the stacking automatically, inside the camera. It automatically subdivides your exposure into up to 16 individual sub-exposures, and stacks them inside the camera prior to download. This eliminates the excessive amounts of data cluttering up your hard drive.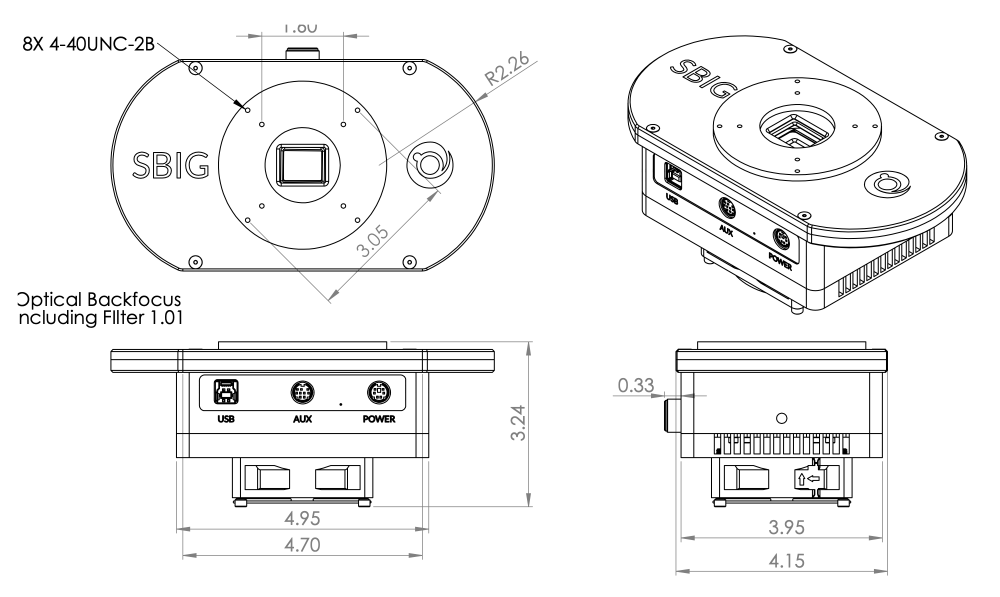 Included Optical Filters
The included 25.4mm filters are parfocal, and include:
Luminance (L)

Red (R)

Green (G)

Blue (B)

Hydrogen Alpha (Ha) – 656.3 nm, bandwidth 6.5 nm

Sulphur II (SII) – 672.4 nm, bandwidth 6.5 nm

Oxygen III (OIII) – 500.7 nm, bandwidth 6.5 nm

Opaque "filter" (anodized aluminum) for dark frames
Power requirements

External 12V 4A

Porta autoguida ST4

No