SBIG Aluma AC2020BSI
SBIG
SBIG Aluma AC2020BSI with Class 1 sensor, silica chamber window with VIS-NIR optical coating and European power cable. The camera's advanced design permits high speed download via the USB 3.0 connection to the control computer. The Aluma AC2020BSI uses the Gpixel GSENSE2020BSI-H CMOS sensor with 4 million pixels at 6.5 microns in a 2048 x 2048 array. The sensor measures just over 13.3mm square. The Aluma AC series has powerful two stage cooling and supports optional water cooling. Aluma AC cameras can be operated directly from a 12VDC 8A power supply.
Availability
: Not available
If you pay by bank transfer 7.755,23 €
Back-Illuminated Sensor
Incredible sensitivity! High performance back-illuminated sensors are flipped over and thinned during manufacture, so incoming light does not encounter any circuitry before hitting the sensitive pixel area. This provides optimum sensitivity across the entire visible spectrum – and beyond. The sensor in the GSENSE2020BSI-H has a peak quantum efficiency of 91%, with a broad peak in the visible spectrum. For near UV and IR applications, it features good sensitivity all the way from 200 nm to 1000 nm.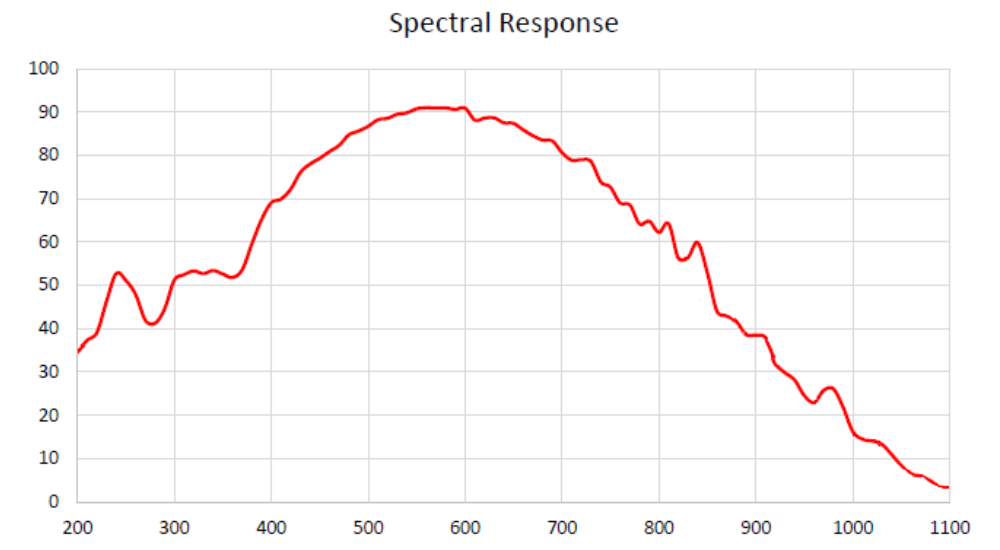 StackPro™
The Aluma AC2020BSI scientific CMOS camera features StackPro™, a revolutionary feature that performs image stacking inside the camera. CMOS sensors often have more limited well depth and bit depth than their CCD predecessors. At the same time, the modern CMOS sensors have much lower read noise than the equivalent CCD. This low read noise can be used to advantage, by stacking many shorter exposures to achieve the same final result. This does however result in a lot of extra disk usage and post-processing. StackPro™ performs the stacking automatically, inside the camera. It automatically subdivides your exposure into up to 16 individual subexposures, and stacks them inside the camera prior to download. This eliminates the excessive amounts of data cluttering up your hard drive. Stacking can also be used as an alternative to HDR mode.
Seven Position Filter Wheel, Self-Guiding and Adaptive Optics Options Available
The Aluma AC2020BSI is compatible with the SBIG FW7-STX filter wheel utilising 50 mm square filters or AFW for 12 50mm round filters. The available SBIG StarChaser SC-3 is an excellent low-cost option for integrated autoguiding in front of the filters, and it supports SBIG AO-X Adaptive Optics accessory. The AO-X uses a tip-tilt window to quickly and precisely adjust the image position in response to autoguider feedback. With Adaptive Optics there is no backlash, stiction, or lag, and the movements are precise and accurate. This allows the AO-X to not only remove the effects of periodic error, drift, and wind gusts, but also reduce the effects of atmospheric seeing. When used with an Aluma AC camera, the AO-X requires the StarChaser SC-3. If you want to use the StarChaser and the AO-X please select also the "StarChaser to AO-X/AO-8T adapter cable".