QHYCCD QHY268M mono camera
QHY268M is a cooled camera with Sony IMX571 back-illuminated mono CMOS sensor, 6280x4210 resolution with 3.76um pixels and 16 bit A/D converter! Double Peltier cooling system allows the sensor to be cooled down to -35°C compared to the ambient temperature to have very low electronic noise even with very long exposition times. The QHY268M also offers a high full well capacity of 51ke- and a very low reading noise of 1.1e- with high gain (and 3.5e- with low gain).
Availability
: Not available
If you pay by bank transfer 2.063,24 €
QHY 268M: on-chip
16-bit A/D

65536 Levels

The Sony IMX571 sensor has on-chip 16-bit A/D for highest resolution of greyscale. The output is real 16-bits with 65536 levels. Compared to 12-bit and 14-bit A/D, 16-bits provides higher sampling resolution. At high gain, the camera yields close to 1e-/ADU with no sample error and low read noise.

 

 
QHY 268M: high dynamic range,

 51ke- Full Well at 3.76um, 75ke- at extend mode

One benefit of the back-illuminated CMOS structure is improved full well capacity. This is particularly helpful for sensors with small pixels. Even with unbinned, the 3.76um pixels of the QHY268M has a full well capacity of 51ke-. QHY268M also offer a unique read mode up to 75ke per pixel.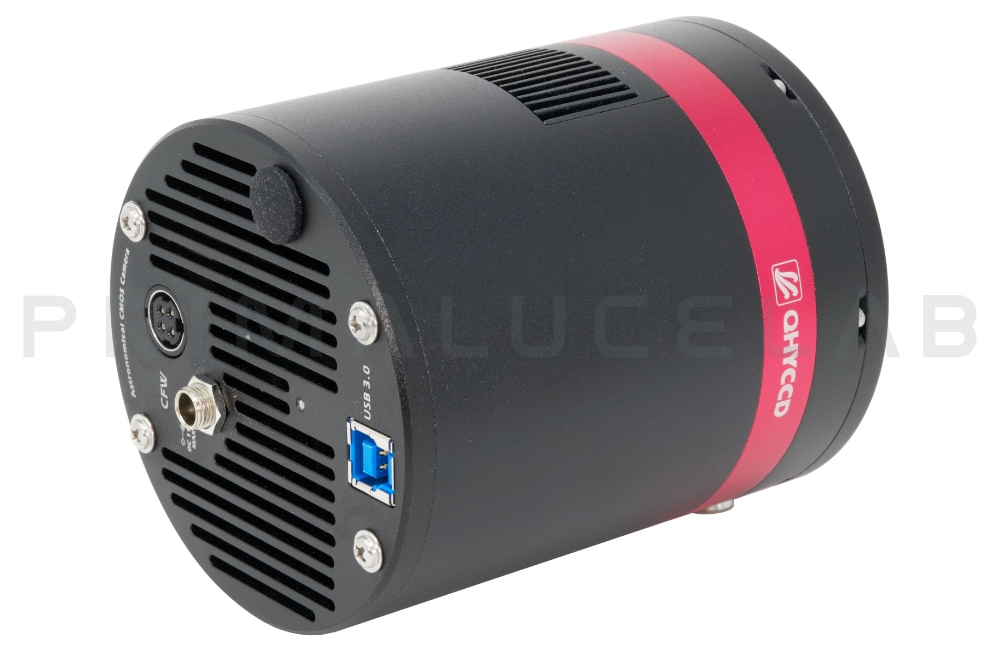 QHY 268M: ultra low read noise,

 1.1e- Noise at High gain, 3.5e- Noise at Low Gainy

The QHY268M has only 1.1 electron of read noise at highest gain and 6.8 FPS at full resolution readout speed. One electron of read noise means the camera can achieve a SNR>3 at only 4 to 6 photons. This is perfect performance when conditions are photon limited, i.e., short exposures, narrow band imaging, etc., making this large area sensor ideal for sky surveys and time domain astronomy.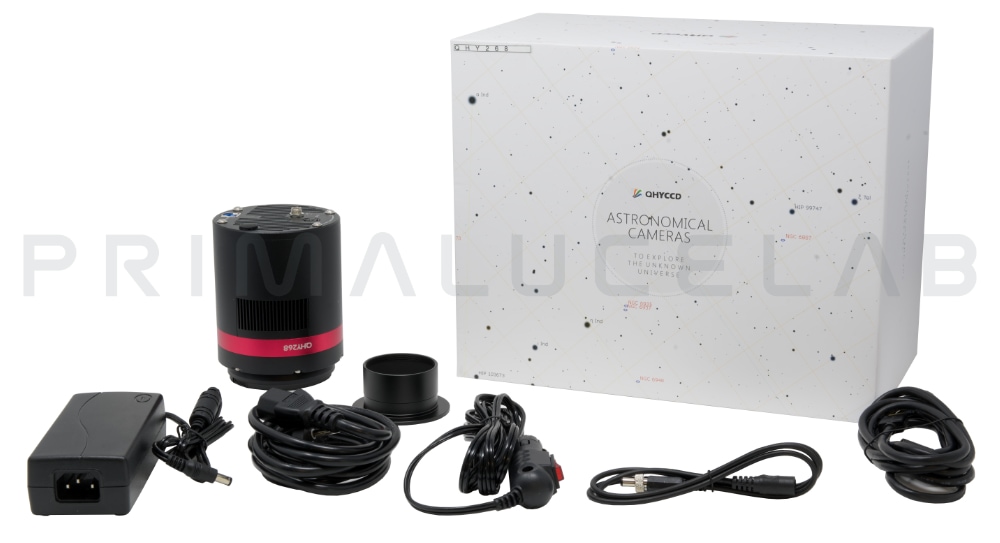 QHY 268M: very low

dark current

The back-illuminated Sony Exmor sensor has about twice the QE of similar front illuminated sensors. In addition the dark current is only 0.0005e/pixel/sec @ -20C. In general, a fan-blade mechanical shutter may fail after several hundred thousand cycles and is subject to intermittent problems in very cold weather. The advantage of an electronic shutter over a mechanical shutter is high reliability and stability when the observer takes a large number of images.

 

 
QHYCCD QHY268M mono camera:

scope of delivery
- QHYCCD QHY268M mono camera
- 50,8mm adapter
- USB 3.0 cable
- 12V power cable with cigarette plug
- 12V power unit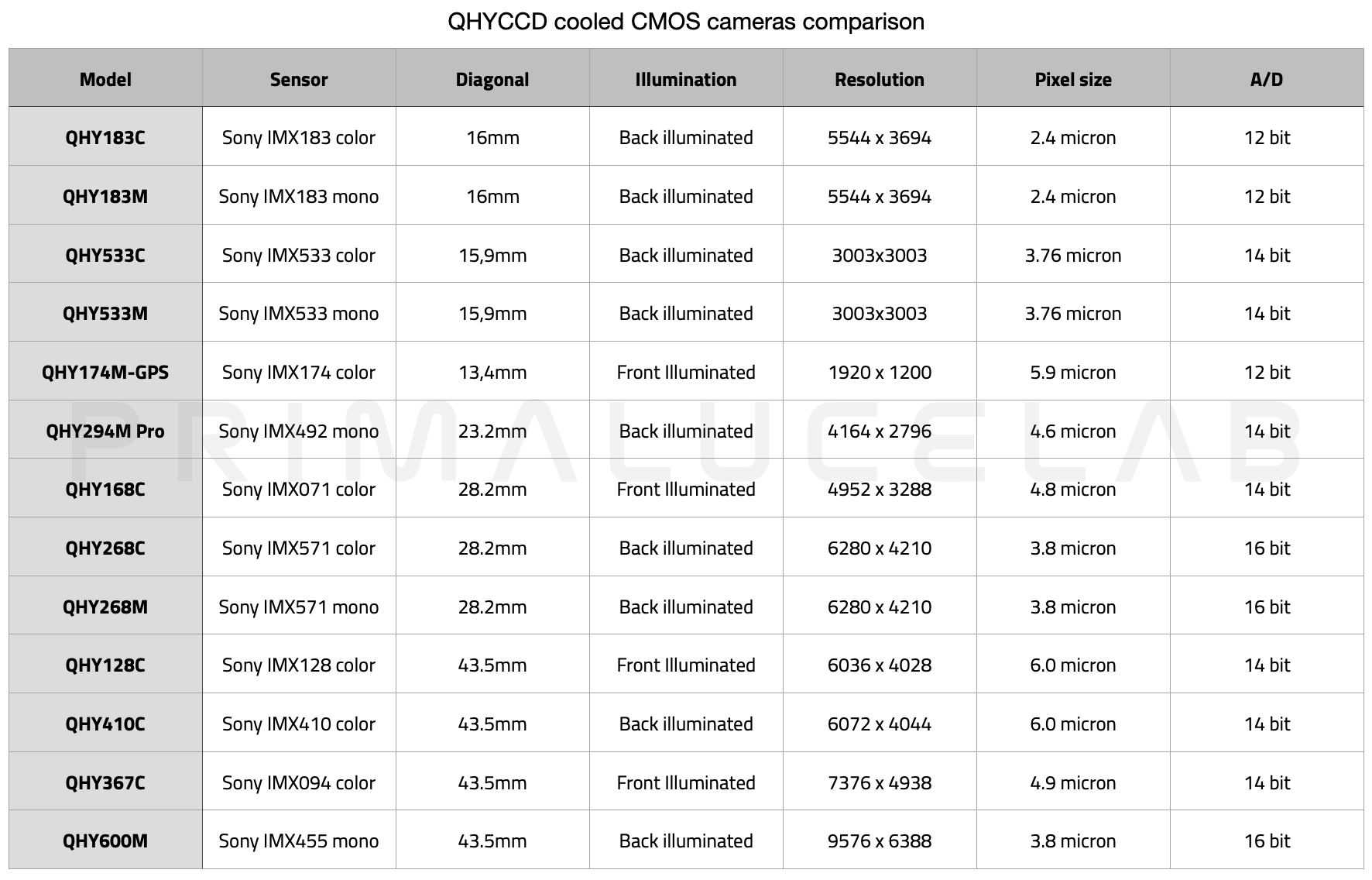 In this table we have summarized main features of QHYCCD's cooled CMOS cameras to allow you to easily compare and choose the best one based on your telescope.
Power requirements

External 12V 5A

Porta autoguida ST4

No