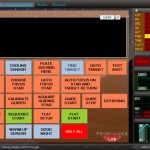 People asks us what what are the softwares for Eagle that can be used in astronomy and astrophotography . The simple answer is pretty much everything! Eagle in fact also incorporates a computer with Windows operating system and then lets the user install and use the software they prefer. You can use sky chart softwares, autoguiding softwares, complete astronomical suites for instruments control or software for astrophotography automation: in this way you can customize your telescope.
These are the softwares that we use with Eagle, if you want to tell us about others we invite you to write us via email ([email protected]):
- Cartes du Ciel
- PHD2 Guiding
- BackyardEOS e BackyardNIKON
- MaximDL
- Voyager
1) Sky chart software
Recommended for: beginners and people seeking a simple yet effective way to view sky charts and point the telescope at the displayed objects.
Cartes du Ciel ( also "Sky Chart" ) is a free planetarium software, simple yet rich in functionality that allows you to view on the screen of your control device  the star map of the sky, using data from different stars and objects catalogs. Thanks to many options available, you can customize catalogs to use, the visualization mode of various objects (such as stars, planets, nebulae, galaxies , etc.). The most used feature with Eagle is the mount connection, thanks to the ASCOM platform, that allows you to point the telescope at any of the objects shown on the star chart.
Note: sky chart software can be graphically very heavy because, some of them, have complex three-dimensional views. These are not recommended for Eagle as it comes with a low-power consumption processor.
2) Software di autoguida
Recommended for: those searching for the easier to use autoguiding software.
The autoguider controls the tracking precision of the mount by analyzing the position of a reference star and automatically make small, precise corrections. PHD2 Guiding is the free autoguiding software that allows you to start autoguide quickly thanks to an easy-to-use interface. However it provides a number of options for those who want to make fine adjustment of the guiding parameters getting the most out of their mounts
Nota: PHD2 Guiding supports many different camera including QHYCCD , Atik , SBIG and many more.
3) DSLR camera control software
Recommended for: those searching for a simple to use solution to use their own DSLR Canon EOS or Nikon camera for astrophotography.
Often people starting astrophotography wants to use DSLR camera, before buying cooled CCD one. BackyardEOS and BackyardNIKON are simple to use softwares for astrophotography that make it easier taking pictures of the sky with your own camera. They offer various features including the live image display, fine focus and the ability to set all camera parameters useful in astrophotography.
Note: BackyardEOS is compatible with Canon EOS DSLR camera, BackyardNIKON is compatible with DSLR Nikon ones.
4) Astronomical suite
Recommended for: those looking for a complete solution to control all instruments of the telescope, up to the domes.
Maxim DL is a complete solution that allows you to control all the instruments that compose astrophotography telescopes (eg mount, CCD camera, guide camera, electronic focuser, field rotator, etc.) for every application. It also features advanced calibration and astronomical images processing functionalities, in addition to specific features such as photometry.
Note: despite Maxim DL offers many options, it works very well on Eagle and it allows you to control all the instruments used for astrophotography.
5) Software for astrophotography automation

Recommended for: the expert amateur astronomer searching the best solution for astrophotography automation.
When you want to get the best results in astrophotography (but not only, even in special applications such as exoplanets, supernova and asteroids research) you search for a solution that optimizes the recording time maintaining exceptional reliability. Eagle allows you to optimize your astrophotography hardware setup, while Voyager is the corresponding automation solution that allows you to spend less time setting up the software and more time recording data.
Note: thanks to a special interface for Eagle, Voyager allows you to control all the main operations in a more easy and fast way.