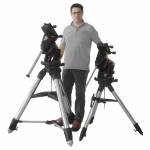 Celestron CGX and CGX-L mounts are great since they offer great load capacity (25 Kg for CGX, 35 Kg for CGX-L) at an affordable price and great tracking accuracy and various advanced technical features, useful for astrophotography too. But when you search for a mount, often you can not understand the true dimensions of these instruments until you remove it from the box: but this parameter is crucial when looking for a mount that is easily transportable for field use or a model to be installed in a fixed observatory. For this reason, we decided to compare the size of Celestron CGX and CGX-L mounts.
As you can see from the picture below (for reference, Filippo is 178cm high), the CGX-L is much higher than the CGX mainly because of the tripod size.
CGX-L tripod is definitely bigger and more robust, with 70mm diameter legs and it weighs 21kg. Instead, the CGX tripod has 50mm legs and it weighs 9kg. When the legs are extended (and the tripod is set to minimum floor height for maximum stability), the CGX-L tripod create a 102cm side triangle, while the CGX has a 90cm side.
Looking at the size of the head in detail, we notice how the dimensions between the two mounts are comparable. But we find differences in:
1) CGX-L has larger worm wheels (144mm against 90mm of CGX) for better tracking precision. The larger gearwheels also allow the CGX-L to drive heavy loads (such as the EdgeHD 1100 or 1400) with greater precision.
2) la CGX-L has a longer Vixen/Losmandy dovetail clamp, 270mm against 200mm of the CGX, for a more secure and strong clamp of telescope installed.
3) la CGX-L has a larger counterweights shaft with 31,5mm diameter (the CGX has a 20mm counterweight shaft).
Combining high load capacity and tracking precision, Celestron CGX and CGX-L mounts are the benchmark for those looking for a reliable instrument also for astrophotography. The CGX is definitely more portable, especially thanks to lighter and more compact tripod, so it's perfect for those looking for a stable yet portable mount. The CGX-L has a higher load capacity, but is especially suitable for fixed observatories.