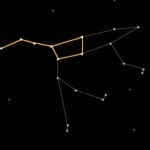 Identify constellations and stars is crucial to understand how to orientate in the Universe. One of methods is to observe particular stellar alignments: the main ones are Big Dipper and Orion constellation.
Big Dipper, for observation places to above 40 ° latitude, is circumpolar ie is visible throughout the year. If we extend the line joining two stars opposite the curve of cart shaft, we find the North Star. If we extend wheel curve, we come to star Arcturus.
The constellation of Orion, with its peculiar form, helps in identify constellations visible during winter. Prolonging bottom left of line joining three stars of Orion's belt we find the star Sirius. In the opposite direction we find Aldebaran in Taurus, then Pleiades (M45) star cluster.
A map of constellations is not enough to reproduce the sky for any time of night and year. Two celestial charts are therefore used with two types of different projection (ie representation): the cylindrical and zenithal one. In first celestial sphere is winded on a sheet of paper tangent to equator and position of celestial bodies is projected. This type of chart has the advantage of representing entire heaven and it allow to precisely calculate stars coordinates. In contrast, it has very deformed shapes of the constellations towards poles. Zenithal charts instead show sky as if we looked from bottom and represent it as you see on a certain date, time and place.
Constellations groups more stars according to their position in the sky, but their closeness is just a perspective matter: mostly they are very distant from each other. Constellations names have generally Greek origin while those of stars such as Aldebaran or Altair, have Arabic origin.
Identify constellations from spring to summer: looking at the sky as it appears at midnight on March 21th in north direction, above North Star we find Big Dipper constellation. Towards east (right in picture) there are summer constellations of Cygnus and Lyra while to the west fade away the winter ones, Auriga and Gemini. Looking south Bootes and the Lion constellations are high in the sky.
Identify constellations from autumn to winter: looking at the sky as it appears at midnight on September 23th, to the north we find, under the North Star, constellations of Big Dipper and Cassiopeia opposite to it with the typical W upside down shape. Towards the east (right in picture) there are winter constellations of Taurus and Auriga while to the west fade away the summer ones summer of Corona Borealis and Hercules. Looking south Andromeda and Perseus constellations are high in the sky.