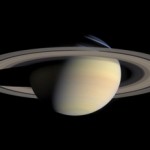 The planets of the Solar System revolve around the Sun, each with unique characteristics and orbit. They are divided into rocky planets (or inner) and jovian planets (or outer). The first (in order of proximity to the Sun we have Mercury, Venus, Earth and Mars) are relatively small and consist mainly of rocky material. The seconds (Jupiter, Saturn, Uranus and Neptune) are composed of light elements such as hydrogen and methane that wrap probably a solid center core. Between Mars and Jupiter (then in the area that separates the inner planets from the external ones) there is the asteroid belt composed of a myriad of rocky bodies of irregular shape and size of less than 1000 km (but most of them do not come to 100 km). As our Earth, all the planets of the Solar System have an elliptical orbit. The orbits are almost all on the same plane called ecliptic and, for that reason, if you happen to see more planets in the sky at the same time, they all seem aligned.
The planets of the Solar System that we can observe with telescopes (therefore we do not consider the Earth) are:
Mercury
The closest planet to the Sun is similar to the Moon and has several distinctive features. It has a rocky surface dotted with craters of various sizes, it has no atmosphere and therefore it is subject to high temperatures. It goes, in fact, from about 400°in the highlight areas to -200° of deep shadows. Mercury is only 43 million kilometers away from the Sun and, since its orbit is so close to our star, if we observe from the Earth it's very hard to find. In fact, it "moves" away from the Sun at the maximum of 28° so you can observe it only at sunrise or sunset.
Venus
The second planet of the Solar System has size, mass and density similar to Earth but is characterized by a thick atmosphere that makes it impossible to see the ground and that, mainly composed of carbon dioxide, is responsible for a very strong greenhouse effect. Because of this phenomenon, the temperature and the pressure at the surface is very high, about 500° and 90 atmospheres, making this planet inhospitable for life. Like Mercury, it has an inner orbit than the Earth so it's visible only at sunrise or sunset. But since it has greater distance from our star it is easier to observe.
Mars
Also called red planet for its coloration caused by the presence of iron oxides, Mars is smaller than Earth (about half the diameter) and its consequent lesser gravity prevented to retain an important atmosphere, which, in fact, is greatly rarefied (about 100 times less dense than the Earth). The temperature does not rise almost never above freezing and fluctuating temperatures contribute to strong movements of air masses that generate huge sandstorms. A peculiar characteristic of Mars is the presence in the surface morphologies related to the erosive action of water which, however, now is not in the liquid state. For this reason, scientists think that billions years ago this planet had a different look with whole areas covered with water to form seas and oceans. Thanks to its outermost orbit to Earth, Mars is easy to see when it is opposite to the Sun than the Earth. Despite being a planet close to us, its small size makes the observation very difficult even with powerful telescopes.
Jupiter
The largest planet in the Solar System, Jupiter is easily recognizable thanks to its unique atmosphere composed of gases (mainly ammonia and ammonium hydrosulfide) with horizontal bands molded by strong winds. A unique feature is the Great Red Spot, a hurricane of gigantic size that is present on Jupiter from at least three centuries. Jupiter has a very high rotation speed and this gives it a flattened shape at the poles. It is believed that the atmosphere, thick about 1000 km, hides a liquid hydrogen and helium ocean which in turn surrounds a rocky core of iron silicates. This, coupled with the high speed of rotation of the planet, helps to create a strong magnetic field that extends into the space for millions of kilometers. Jupiter has many satellites, four of which are the most famous: Io, Europa, Ganymede and Callisto. Io is full of volcanoes that emit sulfur liquid due to an excess of energy created by the strong tidal interactions with Jupiter or with other satellites. Europe is covered by a layer of ice, below which there's a salt water sea in liquid state. Ganymede is the largest among the four satellites and it also has liquid water hidden under a thick layer of ice of more than 100 km. Callisto has a surface rich of craters of which one is particularly extended.
Saturn
Probably the world's most recognizable planet thanks to its famous ring system, Saturn is characterized by more subdued colors of Jupiter. It has a small rocky core covered by an ocean of liquid hydrogen wrapped in a thick atmosphere composed of hydrogen and helium. The rings are made up of a myriad of rocky bodies from a few centimeters to several meters. Maybe they are the remnants of the material never aggregated to form a satellite due to the proximity of the planet. Like Jupiter, Saturn has many satellites among which the most important is Titan, larger than Mercury, that has an atmosphere of nitrogen, ammonia, methane, acetylene and hydrocarbons, very similar to the one of early Earth where the life developed.
Uranus
Accidentally discovered by William Herschel in 1781 while he was testing his new telescope, Uranus is a large gas planet with atmosphere consisting mostly of hydrogen and helium. A peculiar characteristic is to have the rotation axis almost parallel to the orbit plane. This, probably caused by a violent impact with an Earth-size body, means that Uranus has a pole towards the Sun. As Saturn, it has a ring system (though less visible) and many satellites.
Neptune
The last planet of the Solar System has a similar appearance to Uranus. Indeed, it seems blue and surrounded by a thick atmosphere composed of hydrogen and helium. Approached for the first time in 1989 by the Voyager 2 spacecraft, it showed a storm as big as the Earth, later disappeared. It has a faint ring system and several satellites (the more massive is Triton).
Minor bodies
We insert in this class Pluto with its satellite Charon. In the twentieth century it was classified as the last planet of the Solar System, but in 2006, because of its small size and its unique elliptical orbit tilted with respect to the one of the other planets, it was downgraded to a dwarf planet.
Pluto belongs to an area of the Solar System containing a myriad of icy rocky objects called the Kuiper belt. Other minor bodies are present in the asteroid belt between the orbits of Mars and Jupiter. The bodies found in this orbit are predominantly rocky, irregular in shape and with average size of a few kilometers. They could be the remains of a planet mysteriously exploded or, on the contrary, what remains of a planet not able to form due to the influence of Jupiter gravity.