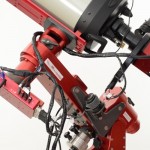 Astrophotography cable management is complicated by the fact that a telescope to photograph the universe consists of many devices (mount, camera, autoguider, electronic focuser, motorized filter wheel, etc.) that must be connected to a control computer and to a power source. Thanks to EAGLE it is possible to simplify a lot the cable management and, thanks to its patented design, they will no longer pull or disconnect. Let's see in this article how to best manage cables in astrophotography with the EAGLE control unit, checking what happens to the cables when we control the same telescope with a classic laptop computer.
In this video Filippo shows how to better manage cables on a "powered by EAGLE" telescope with Celestron EdgeHD 925, Avalon-Instruments M-Uno mount, ATIK 16200 CCD camera and a lot of accessories used in astrophotography.
In the picture below you can see a direct comparison of the same telescope controlled in two different ways:
without EAGLE: with an external laptop computer and many power adapters connected to a field battery
with EAGLE: all the devices are connected and powered through the EAGLE
As you can see the use of EAGLE reduces the number of cables that are shorter and no longer tend to detach as EAGLE moves along with the mount.
Another advantage of the use of the EAGLE instead of an external computer, added to the better astrophotography cable management, is the lower power consumption of the EAGLE that will need around 1 Amps per hour in the use instead of many Amps per hour (usually 5) of a normal laptop computer. This will reduce a lot the dimension and the weight of the battery you will need to power your telescope all night long!