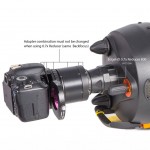 In many cases the use of a filter slider like the Baader UFC is useful also for DSLR cameras, let's see some interesting example. Many DSLR cameras are in fact converted into "astro camera" (improve the sensitivity especially for H-alpha) removing the original filter. If a new UV/IR-blocking filter is not inserted in the camera (the DSLR camera becomes a FullRange version getting sensible to infrared and ultraviolet radiation) you have to find a way to block the IR and UV parts (that may appear out of focus in the picture).
Another example of UCF application is to protect the sensor from dust: in fact when a telescope – and the camera with it – faces upwards into the sky, the dust inside the telescope will fall towards the camera sensor. In a DSLR camera the dust be very close to the sensor and it will be visible as dark spots on the image: inserting a filter in the UFC you can also protect the sensor from the dust. In some cases it's difficult to insert a filter in front of a camera, especially when you need also a fast way to change the filter (for example you could want to use also a UHC-S or H-alpha 35nm filter) and to get a precise back focus in case of the use of focal reducers or field flatteners. The Baader UCF filter slider lets you easily change the filters (so you can see which filter is the best for your conditions) and precisely set the back focus of your sensor.
Let's see an example of the application of the Baader UFC filter slider with Canon EOS DSLR camera (it's valid also for Nikon DSLR cameras) and Celestron EdgeHD telescopes that, having an internal field flattener and an optional focal reducer, needs to have the camera sensor at a precise distance from the telescope rear thread (133mm).
EXAMPLE 1: Celestron EdgeHD 800 in prime focus (f/10) with UCF and Canon EOS DSLR. These parts are used:
- BP2459128 UFC telescope adapter with 2" (SC) female thread
- BP2459142 UFC extension 15mm with S70 connection
- BP2459143 UFC extension 40mm with S70 connection
- BP2459145 UFC extension variable 15-20mm with S70 connection (set at 18mm)
- BP2459110 UFC (Universal Filter Changer) with S70 dovetail
- BP2459119 UFC camera adapter with EOS T-Ring Adapter, S52
- BP2958550 Protective EOS T-Ring Canon (connect via S52 dovetail)
Filter slider according to requirements (2" M48 Filter, unmounted D50,4mm or 50x50mm)
EXAMPLE 2: Celestron EdgeHD 800 with 0,7x focal reducer (f/7) with UCF and Canon EOS DSLR. Since for the EdgeHD telescopes the use of 0.7x reducer has the same backfocus of the telescope without the reducer, you can use the same setup as above with or without the reducer.